Re-introducing Devon's beavers
Devon Wildlife Trust is the lead partner in England's first licensed beaver re-introduction and monitoring project, on the River Otter in east Devon.
About the project
A population of beavers, of unknown origin, has been present on the River Otter since around 2008. However, when video evidence emerged proving that the beavers had given birth to kits (young) in 2014, the UK Government initially planned to have them removed from the river.
DWT opposed their removal and after consulting with the local community, landowners and public bodies, presented an alternative plan: to turn the situation into a five-year trial to monitor the beavers' effects on the landscape.
The River Otter Beavers give you the opportunity to see wild living beavers in the English landscape for the first time in 400 years - what a privilege!
An alternative plan
Our proposal was approved by Natural England in February 2015 on condition that the beavers were shown to be healthy Eurasian beavers and free of non-native diseases.
Following these test results, the beavers were re-released on the River Otter in March. In June 2015, video evidence showed three further kits had been born.
In spring 2017 we released a report that summarises the results of the research being undertaken in Devon to investigate the effects of beavers on the water environment.
Read our annual River Otter Beaver Trial update
Learn about the impacts of nature's fascinating water engineers
Hoping to see beavers?
Beavers are not easy animals to observe! They are shy and largely nocturnal. However, sightings are possible in daylight hours on all parts of the river. If you do go out looking for beavers on the River Otter, our advice to visitors is always: keep to public rights of way, keep your dog under close control and follow the Countryside Code.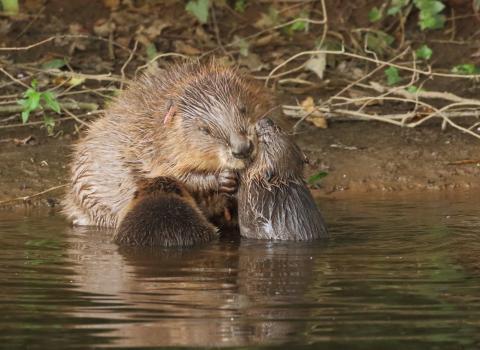 About the River Otter Beaver Trial
The River Otter Beaver Trial is led by Devon Wildlife Trust working in partnership with The University of Exeter, the Derek Gow Consultancy, and Clinton Devon Estates. Expert independent advice is also provided by the Royal Zoological Society of Scotland, Professor John Gurnell, and Gerhard Schwab, an international beaver expert based in Bavaria.
The River Otter Beaver Trial is supported by The Peter De Haan Charitable Trust, The Royal Society of Wildlife Trusts, Garfield Weston Foundation, Tale Valley Trust and donations from local residents, DWT members and the general public.
Two new beavers released into River Otter
On Monday 23 May 2016 we released two new adult beavers into the river's catchment in order to widen the genetic make-up of the resident population.
You can watch the story of this historic event unfold and hear about why the new beavers are so important to this groundbreaking project... 
Beaver and kits footage!
Sylvia Meller captured some wonderful footage of the mother beaver and her 3 kits
Help us help beavers thrive