Devon Greater Horseshoe Bat Project
Devon's nocturnal wonder
The population of Greater Horseshoe Bats (GHB) declined by 90% in the UK during the last 100 years. Similar trends are seen across northern Europe, with Devon now a stronghold for the species.
This project has now ended but during its 5 year history enabled people to learn about, celebrate and help to care for these enigmatic bats and the landscape they live in. Find out more below.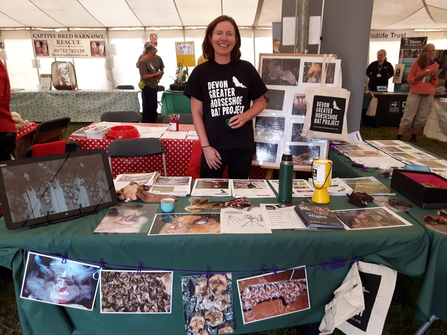 About this project
The Devon Greater Horseshoe Bat Project was a 5 year partnership project of 18 organisations led by Devon Wildlife Trust and was supported by the National Lottery Heritage Fund, as well as other funders.
Our aim was to secure the future of the greater horseshoe bat in Devon, the northern European stronghold of this highly threatened mammal. The team worked with local communities and landowners to secure a future for greater horseshoe bats in Devon.
News: The Devon Bat Survey is back!
Devon Bat Survey was a Devon-wide citizen science project brought to you by the Devon Greater Horseshoe Bat Project.  While the Greater Horseshoe Bat Project ended earlier this year, we are pleased to announce that Devon Bat Survey is back, brought you through Devon Biodiversity Records Centre.
The Devon Greater Horseshoe Bat Project Summary
Click below to read the summary of the Devon Greater Horseshoe Bat Project achievements including the results from the Devon Bat Survey.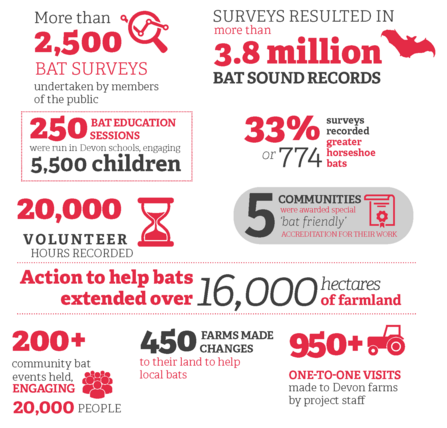 Read the final survey report here...
Visit our interactive display!
Devon Wildlife Trust funded mobile units with an interactive display all about bats. This feature has been made available on a webpage, so you can learn more about British bats.
Click here to find games, trails and more!
Watch our bat videos
Visit the Devon Wildlife Trust YouTube channel for bat videos, including bat roost films, land management and the September 2020 online conference!
How to get involved....
Although this project has ended, there are lots of fantastic resources, activities and bat information for you to enjoy. Whether you are an individual, school, community group, landowner or planner you will find something of interest.
Bat Facts
Where does the bat get its name?

The Greater Horseshoe Bat is named after its horseshoe shaped nose 'leaf', used as part of the bat's echolocation system. The ears are leaf-shaped and have a sharply pointed tip, while the thick fur is coloured ash-grey.
Can bats see in the dark?

Like all bats greater horseshoes use a system called echolocation, making high frequency calls as they fly and listen to the returning echoes to build up a sonic map of their surroundings. Most bats shout sounds from their mouths but the greater horseshoes unusual-shaped 'nose-leaf' allows them to concentrate the sounds really effectively like the foil behind a torch bulb.
How long can bats live for?

Greater horseshoe bats can live for up to 30 years due to their large amounts of torpor and low numbers of young (one pup per year). For an animal that weighs just 30g (the same as 3 pound coins) this is very unusual – a 25g wood mouse lives for just 18 months.
Predator or Prey?

Both

While greater horseshoes are voracious hunters, they are also food for bigger animals. Sparrowhawks often pick off bats as they leave a roost, and owls will take them too. But their biggest enemy is the domestic cat who will take them in their roosts or as they fly low along hedges.
How do these bats feed?

HAWKING & PERCH-HUNTING

Greater horseshoes feed in two main ways:
– Hawking – catching and eating insects in the air during flight.
– Perch-hunting – flying out or ambushing from a hedge, catching the prey and returning to the hedge to dismember and eat it (while hanging upside down from a hedgerow tree).
What do they eat?

Greater horseshoes only live in landscapes where all the following are found – like Devon.

COCKCHAFER - A large beetle, a perfect meal for a greater horseshoe. The Cockchafer beetle likes meadows rich in grasses and flowers.

MOTHS - Moths provide 40% of the greater horseshoe's diet, without them bats couldn't survive!

THE DUNG BEETLE - A favourite food of greater horseshoes. Most important are those on cow pats. Dung (poo) is home to 40 species of dung beetle in Britain, which are a favourite food of greater horseshoes. Most important are those on cow pats.
Thanks to all the partners who supported the project...

Thanks to the funders who made this project possible...
Main Funder: National Lottery Heritage Fund
29th May 1961 Charitable Trust
The Halpin Trust
D'Oyly Carte Charitable Trust
The Hawthorn Trust
Disney Conservation Fund
The Keith Ewart Charitable Trust
Dr and Mrs Alfred Darlington Charitable Trust
The Linley Wightman Shaw Foundation
Environment Agency
The Spear Charitable Trust
Ratcliff Foundation
The St Mary's Charity
Sir
Sir John and Lady Amory's Charitable Trust
West Devon Borough Council
The Adrian Swire Charitable Trust
Wildlife Acoustics (in kind)
The Clark Bradbury Trust