Exeter Schools Project - People's Postcode Lottery
Bringing outdoor learning to schools across Exeter
Thanks to the support of the players of the People's Postcode Lottery, DWT has been able to employ an Education Assistant to deliver an inspiring range of forest school and outdoor learning experiences to children in Exeter.
After a successful first year delivering over 200 sessions with over 6,500 children, Emily Bacon will continue her mission to engage with the young people throughout the city.
See for yourself
In 2018 the Exeter Schools Project was featured in a short film 'Wildlife Champions', supported by the Players of the People's Postcode Lottery. If you don't believe our claims for the transforming powers of outdoor learning then watch this!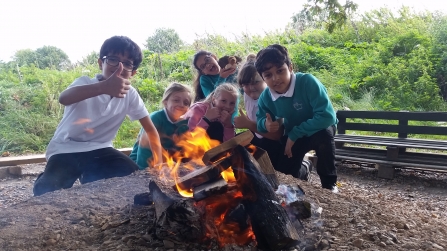 What is forest school?
Forest school is a unique outdoor learning programme, that enables individuals to learn and explore in the richest of classrooms- the outdoors. Being outdoors has many proven benefits such as those to health, social and emotional well-being.  
Forest school activities encourage individuals to build self-esteem, confidence, and resilience through encouraging participants to lead their own learning. The outdoor environment also offers learners the opportunity to take risks in the outdoor world, enabling them to develop problem solving skills.
Not only does forest school have benefits to its participants but it can also have a positive effect on the environment - by enabling others to gain knowledge and enjoy the natural world may in turn secure the future for helping to protect it.
Our forest school and outdoor learning sessions provide unique experiences that can improve children's self-esteem, confidence and abilities
Wild activities
Basic bush craft skills: den building, fire lighting, use of tools
Nature detective skills: walks, pond dipping, bug hunting, bird watching 
Creativity: natural art, storytelling, woodcraft
Team challenges and games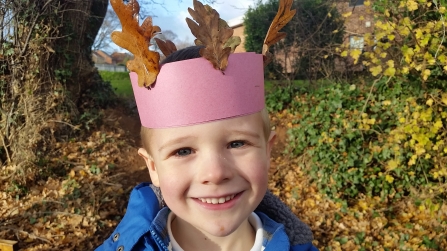 To who? 
Schools: Opportunities for schools can include forest school or outdoor learning sessions tailored to the curriculum and your requirements. These can include multiple visits to your grounds, whilst we provide the equipment. Please note: this is only available to schools within Exeter.
 
After School Clubs: Forest school after school is a brilliant way to end the school day. We will provide the equipment just get in touch to find out more!
 
Community groups: Mixture of forest school activities, nature detecting skills and wildlife themed games tailored to meet your requirements. Small donation charge dependent on activities and location.
 
Family Events: Family fun events to run throughout the holidays, to include Family Forest School and other nature exploring days. Keep an eye on our events page and social media for updates.
Contact Emily Bacon for more information ebacon@devonwildlifetrust.org
Supported by players of People's Postcode Lottery
People's Postcode Lottery is a charity lottery in Great Britain where players play with their postcodes to win cash prizes whilst raising money for charities. To find out more about the People's Postcode Lottery, click here to visit their website.
Find out more about how People's Postcode Lottery works by clicking here.
People's Postcode Lottery is regulated by the Gambling Commission, for more information please click here.
Support our work
The vital work we do for nature depends on the support of people who care about the future of Devon's wildlife and wild places.