Exeter Schools Project - People's Postcode Lottery
Making Exeter's Children Wild
Thanks to the support from players of People's Postcode Lottery (PPL), DWT has been able to expand their education team to help deliver a range of Forest School and Outdoor Learning experiences to many more children and young people across Exeter.
Since 2017, the project has enabled the delivery of DWT's education work to massively increase, enhancing the lives of many more inner city children. Each year, the project has delivered over 200 sessions and engaged with over 6000 children!
See for yourself
In 2018 the Exeter Schools Project was featured in a short film 'Wildlife Champions', supported by Players of the People's Postcode Lottery. If you don't believe our claims for the transforming powers of outdoor learning then watch this!
What does the project involve?
Schools - Outdoor Learning

Outdoor Learning Programme: We run regular outdoor learning sessions to schools in Exeter where we work closely with staff to develop 6 weekly sessions - tailored to ANY topic that your class is learning about in the clasroom - ticking off your curriclum requirements. From Anglo Saxons to Living things and their Habitats. Please get in touch to find out how much this scheme would cost.

One-Off Visits: We can offer a taster session or visit you on a one-off visit to your school grounds in Exeter for FREE, thanks to the support of players of People's Postcode Lottery.  From bug hunts, pond dipping, to subjects like food chains and survival, let us know how we can help!
Schools - Forest School

Depending on our availabilty we offer forest-school type sessions to schools in Exeter, which we believe can be especially beneficial for those students who struggle in the normal classroom. We particulary like to promote this offer to seconadry schools, who often do not have the time or means for their students to get outdoors.
Youth Community Groups

If you run a community group in Exeter we can arrange fun one off visits, to either inspire you children on the wonders of wildlife or to run forest school type activites. If you are a uniform group, this may be particualry useful if you are working towards an enviromental badge. We can visit either you at your base, meet us at one of Exeter's Valley Parks, or at our HQ at Cricklepit Mill.
Family Events

Family fun events to run throughout the holidays, to include Family Forest School and other nature exploring days. Keep an eye on our events page and social media for updates.
Our forest school and outdoor learning sessions provide unique experiences that can improve children's self-esteem, confidence and abilities

Education Officer, DWT's PPL project lead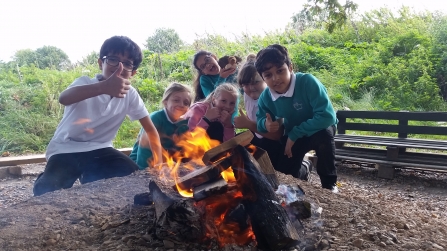 Wild activities might include...
Basic bush craft skills: den building, fire lighting, use of tools
Nature detective skills: walks, pond dipping, bug hunting, bird watching 
Creativity: natural art, storytelling, woodcraft
Team challenges and games
To find out more about the project or to find out ways in which your school or group can get involved contact our Education Officer Emily on: ebacon@devonwildlifetrust.org

Supported by players of People's Postcode Lottery
To find out more about how players of People's Postcode Lottery support The Wildlife Trusts, click here. 
Support our work
The vital work we do for nature depends on the support of people who care about the future of Devon's wildlife and wild places.