Exeter Wildlife Gardening Award
A patchwork of wild spaces across the city
The Exeter Wildlife Gardening Award invites you to add your garden to a growing patchwork of wild spaces across the city of Exeter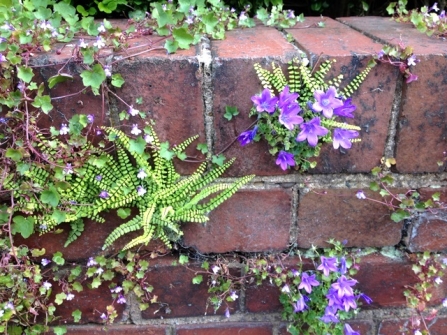 Our city gardens are hugely important for wildlife
They provide refuges of shelter, food and water along our grey hard streets; they are the stepping stones between parks, river corridors and countryside borders. And they often provide a veritable feast all through the year, as well as an opportunity for us to explore the wild side of city life in the comfort of our own back yard. Hooray for urban gardens!
Gardening for wildlife needn't be complicated; neither does it mean abandoning your secateurs and surrendering to a bramble invasion. Whether you have a balcony, a courtyard, or a traditional English country garden, there are simple ways to inviting wildlife in, some of which can be found on our wildlife gardening page.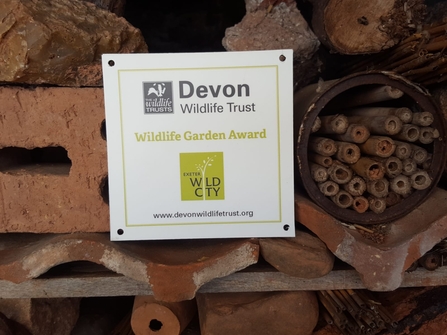 Receive your Exeter Wildlife Gardening Award
The Exeter Wildlife Gardening Award invites you to add your garden to the patchwork of wild spaces across the city. You will receive an award plaque to proudly display on your gate, wall or door, a certificate, and (whilst stocks last) a packet of wildflower seeds.
To attract wildlife to your garden you need to provide food, water and shelter. You may also need to manage your garden a little differently. Below are some options for providing each of these elements. To enter the scheme you will need to meet at least 6 of the options below, with at least one from each column.
| Food | Water | Shelter | Management |
| --- | --- | --- | --- |
| Bird feeders and/or dog/cat food left for hedgehogs | Wildlife pond (without fish) | Plant creepers on vertical surfaces or trellis for nesting & feeding | Leave perennials standing till spring |
| Nectar rich flowers | Bog garden or permanently wet area | At least one mature tree | Compost garden and kitchen waste, go peat free |
| Flowers, fruits & seeds available throughout the year | Bird bath | Mixed native hedge | No slug pellets or pesticides |
| Shrubs and trees with nuts and berries | Water left out for hedgehogs and insects | Dead wood log piles or big tree stumps | A long grass area or a few nettles left in a corner |
| Wildflower meadow or nectar rich lawn of 2m2+ | Save water and use a rain butt | Bird, bat, hedgehog or bee/insect box | Allow hedgehog access into your garden through a hole in the fence or gate |
Apply for your plaque
Send your photographs and a short summary of the wildlife features of your garden to Devon Wildlife Trust, Cricklepit Mill, Commercial Road, Exeter, EX2 4AB, or complete the following online form (& include up to four of your digital photographs). 
Become a member and support our work
The vital work we do for nature depends on the support of people who care about the future of Devon's wildlife and wild places.