An urban oasis in the heart of the city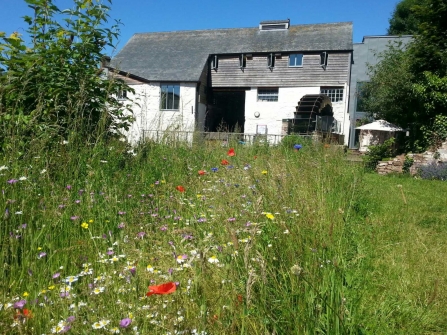 A visit to Cricklepit Mill helps to brings the history of Exeter alive.
The earliest known mill at Cricklepit was built in the 13th century – a 'fulling' mill used to finish woollen cloth by pounding it. It was restored by the Devon Historic Buildings Trust in the 1990s after it had been devastated by fire, and bought by DWT with funding from the Heritage Lottery Fund in 2004. It is now a small visitor centre and wildlife garden where we run a range of events and activities for the general public.
If you want to learn more about the history and wildlife of the Mill, you are welcome to visit the site for free and wander around our stunning wildlife garden. Opening hours are Monday to Friday 9am to 5pm (except Bank Holidays). To see inside the mill please contact us and make an appointment. 
Attend a milling day
We stage milling events when the mill wheels turn and we produce flour in the old-fashioned way.  For more information and dates and to find out when these and other events take place at the mill, please visit our events page. Please note that at present there are no scheduled public milling days due to works needed to be carried out. Milling days will return in the future.
Look for wildlife in the garden
For an urban site, the Mill has an extraordinary wealth of wildlife. Otters, kingfishers, egrets, and hedgehogs have been seen here. 
Cricklepit Mill has been supported by Viridor Credits Environmental Company.