Join us to learn about Exeter's wild side
We hold events such as talks, walks, wildlife activities and practical conservation tasks within the city boundary and beyond.
Exeter Local Group focuses on making connections between local communities and wildlife. We often hold joint events with other local organisations such as Devon Bat Group: Exeter section and Devon Mammal Group, as well as get involved with projects such as Exeter Wild City.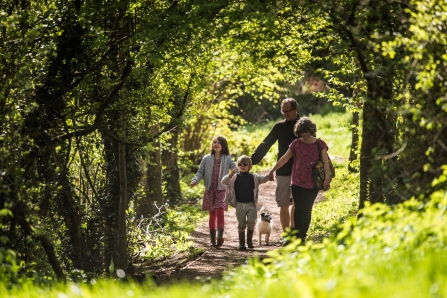 Exeter's Wild Areas
The Old Sludge Beds is the only accessible DWT reserve within the city boundary.
However, Exeter is fortunate to have a variety of green areas.  Devon Wildlife Trust has recently taken over the management of a network of wildlife-rich Valley Parks, and Cricklepit Mill garden at the DWT office is a great example of how you can encourage biodiversity in an urban area. 
These and other wildlife-rich corners of Exeter are the focus of our events.  Come with us and discover Exeter's wild areas on our guided walks. Explore them through wild activities such as pond dipping and surveys that add to DWT's knowledge and understanding of the sites. Conserve them through events that assist DWT's staff with habitat creation and enhancement within these areas.
Further information
Keep up to date with Exeter's latest nature news and wild events by signing up to the Exeter Local Group's own newsletter 
You can see details of our upcoming events if you click on the event link
Tweet us your photos and follow us on Twitter for all the latest updates on Exeter and urban nature!
Our blog Exeter Wild Things reports on past Exeter Local Group events as well as occasional Exeter wildlife observations
The Exeter Local Group committee meets informally once or twice a year to plan future events and projects - please get in contact if you would like to help!
If you have specific enquiries about the Local Group only or wish to book on an event contact Local Group Leader Stephen at exeterlg@devonwildlifetrust.org
Want to find out about volunteering in Exeter?  Scroll down to find the link for volunteering opportunities or email volunteering@devonwildlifetrust.org
For up-to-date information on all local group events, please visit the Devon Wildlife Trust What's On webpage.
Looking for other volunteer opportunities?
From practical conservation tasks, like cutting back bracken and hedge-laying, to answering queries on our wildlife help-desk and engaging with the public at our events - we have lots of different volunteer opportunities just waiting for you to get involved in.