Devon can call one moor its own: Dartmoor, & has a part-share in another: Exmoor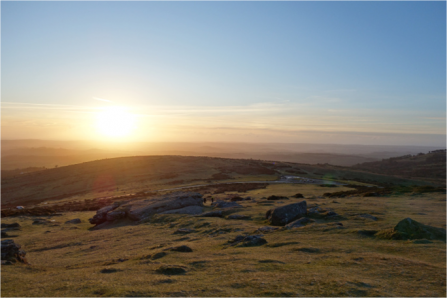 The wildlife and wild spaces of both draw thousands of visitors each year.
Both of Devon's moorlands are National Parks
At 400 square miles Dartmoor is southern England's largest and wildest open space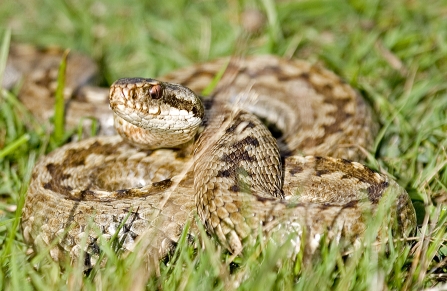 Things are looking up
Visit the moors at any time of year and you'll hear the distinctive ka-ronk calls of ravens patrolling the skies on big, black wings. Look up too to see the eagle-shaped outlines of buzzards as they soar on thermals above moorland tors.
As the spring sunshine strengthens you'll have a good chance of seeing an adder basking amongst the heather and rocks. Common lizards, toads and frogs are also to be found, especially around moorland bogs and streams.
Late summer and autumn sees the moors burst into colour as the pinks and purples of ling, cross-leaved and bell heather combine with the yellow and deep green of gorse.
Dartmoor holds memories and magic for many. From the torrent streams and wooded slopes to the open moor, this landscape is a fantastic place to explore and discover new species.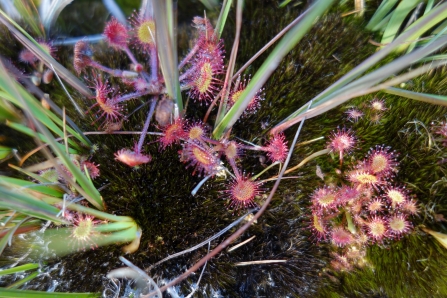 Plants become meat-eaters
Dartmoor's famous bogs are wildlife havens. Amid enormous clumps of purple moor grass the white heads of cotton grass wave in the wind, while carnivorous sundews and butterwort make a meagre living by preying on bog insects careless enough to wander into their grasp.
From May onwards butterflies weave their way across the moors. Meadow browns are the most common, but look out too for common blues, small coppers and gatekeepers.
In summer, moorland also comes to life with the sound of skylarks and meadow pipits. Dartmoor also remains one of the last places you are guaranteed to hear a cuckoo's call.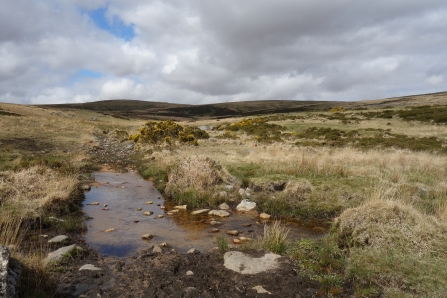 Planning a moorland visit?
Devon Wildlife Trust's nature reserves at Emsworthy Mire (near Hay Tor) and Bellever Moor and Meadows (near Postbridge) provide great introductions to Dartmoor and its special wildlife.
 
Magnificent Mires
The Magnificent Mires project celebrated the fascinating, unrivalled natural and cultural heritage of one of Devon's least known landscapes – the internationally important blanket bogs of Dartmoor.
The project ran for one year and revealed the remarkable wildlife blanket bogs are home to and the vital services these areas provide.
Find out more about a species you've seen
Become a member and support our work
The vital work we do for nature depends on the support of people who care about the future of Devon's wildlife and wild places.