The bee's knees 
Gardens are vital for urban and suburban bees, with the right planting they can give a boost to early emerging bees and be hotspots for these insects throughout the year
Over 250 species
We have around 267 species of bee in the UK! These include 1 species of honey bee and 25 bumblebee species, the rest (around 90%) are solitary bees.
Bees provide an important service, they pollinate our crops allowing us to grow plants such as tomatoes, blueberries, strawberries and green beans.
Bees and other pollinators have seen dramatic declines over the past 80 years as a result of habitat loss, disease and the overuse of pesticides. Gardens have therefore become even more important for bees.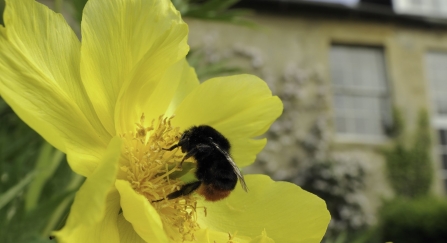 Action for Insects 
Our Action for Insects guide has lots of ideas for making your garden brilliant for bees and other insects. It builds on the ideas below and provides even more advice on creating spaces where insects can live, feed and breed and which help them to move around more easily. Download the guide today.
It's easy to make your garden a haven for bees! And what's good for bees can be brilliant for people too with gorgeous colour throughout the year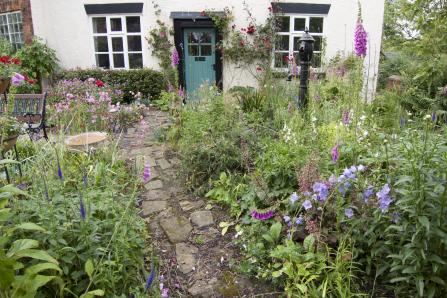 Feed the bees
When choosing plants for your garden, select nectar rich flowers which will provide an energy source for bees and other pollinating insects throughout the year. Try growing traditional cottage garden flowers and native wild flowers.
Plants that are great for bees include:
lungwort
echinacea
Also trees such as crab apple
Carefully selected non-native flowers can lengthen the flowering season, providing nectar for early emerging and late flying bees (try sedums and mahonias for flowers in the autumn and witch hazel and heathers for late winter blooms).  
Different bees will like different shaped flowers – long-tongued bees will love foxgloves with deep flowers whereas short-tongued bumblebees will prefer shallower flowers. Create large patches of the same kind of flowers so the bees can find lots of nectar without having to fly too far.
If you're unsure, look to see which plants are attracting bees at your local garden centre – let the bees guide your purchasing!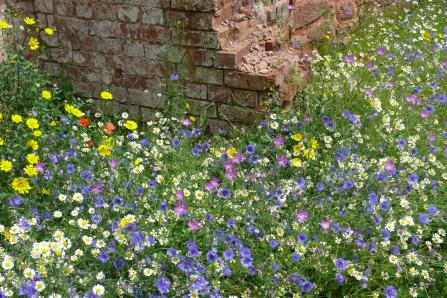 Wildflower meadows
Wildflower meadows provide an amazing splash of colour and are fantastic feeding stations for pollinators. Meadows can be anything from a patch of grass left to grow long, to a managed area that is stripped of turf, raked and sown.
Build for bees
Solitary bees create individual nests in old tunnels, cracks and underground. 'Bug hotels' are a great way to help solitary bees, these can be as simple as a few short bamboo canes tied together or they can be works of art within your garden! Below are some simple ideas for making bug hotels. For more inspiration check out the hashtag #buildforbees
It is also good to provide patches of long and short grass as well as bare earth in your garden which will serve as potential nesting sites for different bee species.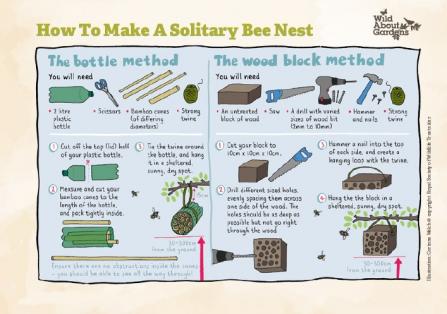 Provide a drinking hole
Bees sometimes need a drink. A shallow dish of water with a few stones in the bottom will provide a safe source of water. If you have a bit more space, a pond can be an excellent addition to a wildlife friendly garden, make sure you create shallow margins for the bees to get a drink.
If you're thinking about creating a pond, check out our pond page!
Avoid pesticides 
Pesticides can harm bees and other beneficial wildlife in your garden. Encourage natural predators such as beetles and slow worms to control pests.
A log pile is a great way to attract beneficial predators like frogs, toads, shrews, hedgehogs, centipedes and beetles. Build the log pile in a shady place and use a variety of different types of wood with the bark left on.
Exeter Wildlife Gardening Award
Do you live in Exeter? Have you made your garden wildlife friendly?
The Exeter Wildlife Gardening Award invites you to add your garden to the patchwork of wild spaces across the city! It's easy to enter and you can receive a plaque, certificate and wildflower seeds.