Hedgehogs are struggling. Their numbers have fallen below one million in the UK – down by 30% in just over ten years.
Devon Wildlife Trust, working alongside British Hedgehog Preservation Society and People's Trust for Endangered Species, is asking the people of Devon to help our hogs.  There are 3 things that you can do to help hedgehogs in your area: Survey, Take Action and Become a Hedgehog Champion!
Survey
We have teamed up with People's Trust for Endangered Species and British Hedgehog Preservation Society to help record where Devon's hedgehogs are.
Let us know when you last saw a hedgehog and where.  Map your sightings here. 
Take action
Let's make Devon the most hedgehog friendly county.  Help boost Devon's hedgehog population by doing something to help hogs in your area and map your achievements here.
We can make big differences in our gardens through doing simple things. There are 15 million gardens in the UK, covering about 270,000 hectares – more than the area of all the National Nature Reserves. Together they can make a crucial difference to hedgehogs.
Access

Hedgehog. Photo, Marshall

In urban areas our parks and green spaces are not enough to sustain hedgehogs. They need a far larger and better connected area to forage in.  Access to habitat such as your garden is crucial for helping urban hedgehogs.  If you could make a 13cm/5inch hole in your gate or fence, and perhaps talk to your neighbour about putting a hole in the boundary between you, then you can make a big difference.
Food

Great black slug. Photo, Nick Upton/2020VISION

Encouraging insects to your garden is the best food you can provide hedgehogs.  Log piles, long grass, garden compost, nectar rich flowers all encourage worms, beetles, caterpillars, millipedes and earwigs for hedgehogs to munch on.

Our Action for Insects page contains lots of useful information to help you turn your home and garden into insect-friendly havens.

Providing wet canned dog/cat food (avoid fishy flavours) mixed with crushed dog biscuits is a useful supplement.  Do not put out bread and milk as this makes hedgehogs very ill.
Water

A dish of water or a pond are ideal, as long as there is a way for hedgehogs to get out of ponds. 
Shelter

Photo credit, Tom Marshall

A grassy corner, a pile of leaves, a hedgehog home and space under sheds or decking are all spaces that hedgehogs will potentially hide, nest or hibernate.
Garden Management

Photo, Tom Marshall

Pesticides
Using slug pellets and pesticides is dangerous for wildlife.  Hedgehogs and other wildlife will be poisoned if they eat insects and slugs/snails that were killed by chemicals.  Encouraging hedgehogs to your garden should help to keep slug and snail populations down.

Netting
Take care not to leave netting or other litter about which could trap hedgehogs.

Strimming
If you're strimming long grass don't forget to check for hedgehogs.  If they hear something loud they will naturally curl up rather than run away which leads to many deaths each year.

Bonfires
Check or move any piles for burning before you light to make sure they haven't attracted a sleepy hedgehog.
Become a Hedgehog Champion
** Please note, there may be a delay to us sending out hedgehog champions packs due to current lockdown restrictions. Packs are for addresses within Devon only **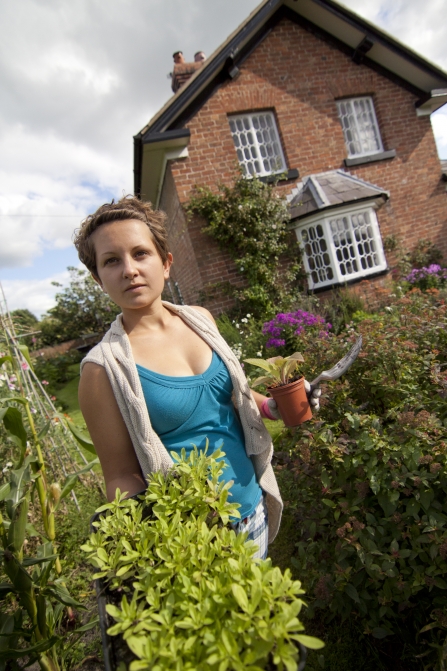 Can you inspire your neighbours, street or neighbourhood to do something for wildlife?  Could you encourage your wider community to think about how accessible your local area is to hedgehogs and start to connect gardens and local greenspaces and corridors?  We would love to hear from you! More information can be found below.
Please note, as we are a local, county Wildlife Trust we can only send packs to Devon residents. If you live outside of Devon we recommend you sign up with Hedgehog Street: https://www.hedgehogstreet.org/about-our-hedgehog-street-campaign/who-are-the-hedgehog-champions/
Get in touch
We'd love to hear about how you are helping hedgehogs, and other wildlife in your garden.
Share your photos and experiences with us via Twitter @DevonWildlife or Facebook Devonwildlife
Injured or sick hedgehogs