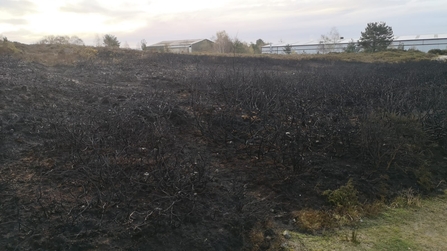 A wildfire which could have 'devastated local wildlife' is just the latest in a series of problems that has been affecting our 58 nature reserves.
The fire was discovered yesterday (daytime Weds 7 April) at Devon Wildlife Trust's Bovey Heathfield nature reserve, in South Devon. Fire crews from Bovey Tracey were able to control the blaze. Nonetheless, half an acre of the heathland site was damaged leaving behind charred heather, gorse and grass.
Speaking for Devon Wildlife Trust, Steve Hussey said:
"We're still trying to piece together the details of this fire, but what we do know is that this was a very close call and things could have quickly become much more serious. We want to thank local crews from the Devon and Somerset Fire and Rescue Service who responded when the alarm was raised. Without their swift action a much larger part of this precious heathland could have been lost".
This is the second fire to have broken out at the popular nature reserve in the past year. Steve Hussey said:
"A very dry spring means that our countryside is extremely vulnerable to fire. All it needs is a discarded cigarette, a BBQ or spark from a firepit and a large wildfire could ignite. The results of this can be devastating, not only for local communities, but for wildlife too. At this time of year, birds are nesting, reptiles and insects are emerging and wildflowers are beginning to bloom – the timing really couldn't be any worse."
The fire at Bovey Heathfield nature reserve is just the latest of a growing set of recent problems that Devon Wildlife Trust has identified across its network of wildlife havens. As lockdown restrictions have eased the charity has seen growing numbers of people visiting its 58 nature reserves which contain some of the county's most precious wildlife. However, staff at the conservation organisation are concerned by a rise in anti-social and inappropriate behaviour which they say is putting nature at risk.