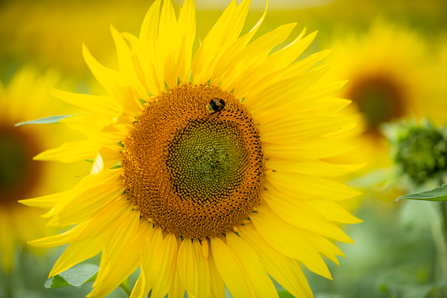 Vine House Farm announced the amazing £2 million milestone as sunflowers bloomed on the family farm in Lincolnshire.  The black sunflower seeds are part of 400 acres of bird seed crops, which will go into wild bird food mixes, along with red millet, canary seed, oil seed rape and naked oats, all home grown on the farm.
Thanks to hedges, ponds, and wildflower margins at field edges, all created by farmer and award-winning conservationist, Nicholas Watts, the farm is also a haven for flocks of wild birds including, rare and declining tree sparrows, red-listed linnets and lapwing. The money, raised over 14 years, supports the nature conservation work of The Wildlife Trusts. This includes Devon Wildlife Trust which has received a grand total of £62,536 during this period.
Lucy Taylor, manager at Vine House Farm, and Nicholas' daughter said:
 "Our partnership with The Wildlife Trusts has long been very important to us. Along with the practical measures we take on the farm to, for example, to reverse the trend of declining songbird numbers; a percentage of each purchase of Vine House Farm bird seed goes to support Wildlife Trusts, enabling a greater conservation impact across the country.
"The Wildlife Trusts has always been the obvious choice for us to champion, and it's been a proud time for me, my father and all our family to be able to reach the two million pound milestone. Now we look forward to the future and being able to eventually reach five million and more."
Craig Bennett, Chief Executive of The Wildlife Trusts said:
"Through their own love of wildlife, and working for nature, Nicholas Watts and his family have enabled many other people to experience the joy of nature in their homes and gardens and in doing so to provide fantastic support to the work of Wildlife Trusts.
"Vine House Farm's magnificent long-term support for The Wildlife Trusts means we've been able to restore wildflower meadows, and wetlands, and enable more people to feel the health and wellbeing benefits of connecting with nature. Customers of Vine House Farm who are feeding their garden birds are playing an important part too, helping wildlife thrive to support nature's recovery.
"We are extremely grateful to Nicholas and his family for their support and look forward to working with them for many years to come."
Devon Wildlife Trust's Steve Hussey said:
"The support of Vine House Farm and its customers have helped us achieve so much for local nature over the past 14 years. From successfully reintroducing beavers into the wild, to conserving more than 50 nature reserves as places for local people and wildlife, the generosity of Vine House Farm continues to make a vital difference to what we achieve in Devon."