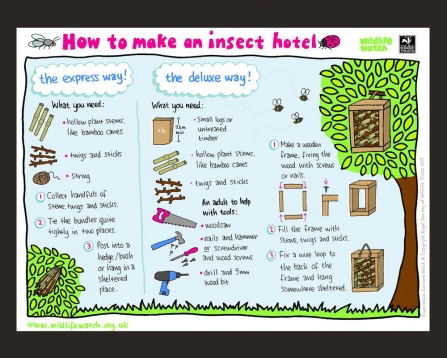 The accommodation in question is actually a 'bug hotel' – a collection of sticks, twigs and other woody material which provides sheltered hideaways for countless insect species. The six-foot high structure was constructed recently at Devon Wildlife Trust's Bovey Heathfield nature reserve, near Bovey Tracey.
The bug hotel is the work of volunteers who regularly give up their time to support the conservation charity's work across its 57 nature reserve.
Devon Wildlife Trust's Steve Hussey said:
"The nature reserve's new bug hotel is a masterpiece of recycling and it typifies the ingenuity and hard work of our volunteers. We have recently installed smart new welcome signage at our Bovey Heathfield reserve, but rather than just scrap the old and worn out sign our volunteers set about re-purposing it as a bug hotel.
Using other natural and recycled materials gathered locally, the volunteers have produced something that is not only interesting to look at, but which serves a practical purpose too. Many insect species are struggling at present, one of their main problems is a loss of suitable space to live in. This bug hotel will provide a home for insects such as solitary bees and ladybirds."
The work by the volunteers was completed before the recent rules on social distancing and travel were introduced.
Steve Hussey said:
"Building a bug hotel is something I'd encourage people to do in their own gardens. They are easy to put together and don't need to be on the grand scale of our one at Bovey Heathfield nature reserve. Constructing one makes an ideal task for families and gardeners at a time when most of us are having to spend long periods at home."
Instructions for making your own bug hotel, along with lots of other practical wildlife gardening ideas can be found at Devon Wildlife Trust's website.