A fascinating 'new' landscape created from the diggings of nearby clay quarries. Birds, butterflies and wildflowers jostle for room amongst its meadowland and steep-sided slopes.


Know before you go
Grazing animals
Seasonal. Please keep dogs on lead when grazing animals are present.
Walking trails
A series of permissive paths and footpaths allow you to explore the nature reserve. The Stover Trail runs through the site. A pleasant stretch of the River Bovey also flows along one edge.
Access
The Stover Trail provides good access through the nature reserve. Unsurfaced footpaths lead from this into the site. Some sections of these paths are steep.
When to visit
Opening times
All day, every day.
Best time to visit
March to October
About the reserve
The Stover Trail traffic-free path runs through the reserve making this a great place to visit by bike, on horseback or on foot.  
This is a fascinating new Devon Wildlife Trust nature reserve. Walk to the top of the hill for wonderful views of Dartmoor and the spectacular industrial landscape of the Bovey Basin.
NOTICE: If you are visiting our reserves, please note that there have been instances of H5N1 Avian bird flu found in birds in Devon. There is very low risk to public health but we do ask that if you come across any unusual or unexplained bird deaths on or near our reserves please do not touch them. Call Defra on 03459 33 55 77 and report your findings. Please also report your findings to DWT by email at contactus@devonwildlifetrust.org
Habitat
Environmental designation
County Wildlife Site
How to get to Teigngrace Meadow
Teigngrace Meadow is one of our newest nature reserves. You are free to explore its mix of meadows, riverbank and great views.
Wildlife to look out for includes: green-winged orchids, marbled white and dingy skipper butterflies, meadow pipits and skylarks. Walk to the top of the nature reserve's hill for wonderful views of Dartmoor and the Bovey Basin.
This nature reserve was formed from nearby clay quarries. Teigngrace is surrounded by the dramatic results of this industry.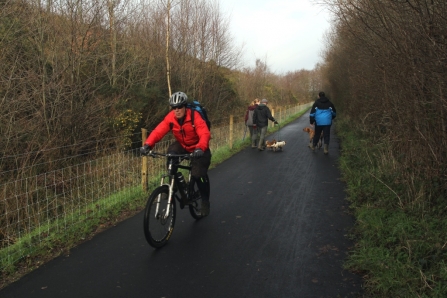 Perfect by horse, by bike or on foot
Head south-east from Bovey Tracey on the multi-use Stover Trail. Having crossed the A38 footbridge, you are in Teigngrace Meadow. Paths into the main body of the reserve are on the right, opposite the cycle stands. The bankside route along the River Bovey starts a bit further on, to the left of the Stover Trail. 
Use Ordnance Survey Explorer Map 110 - Torquay and Dawlish to explore this nature reserve. 
In 2018 we made substantial improvements at Teigngrace Meadow, thinning scrub vegetation over 2.3 hectares, opening up these areas to encourage the spread of wildflowers.
Improvements also included the installation of a 10,000 litre water tank, cattle troughs, pumps and pipework, along with 280 metres of stock fencing and two new gates. This has allowed us to use grazing cattle over a greater area of the reserve - a key part of its long term management.
This work has been undertaken with the help of local volunteers. 
This work has been generously supported by Viridor Credits Environmental Company.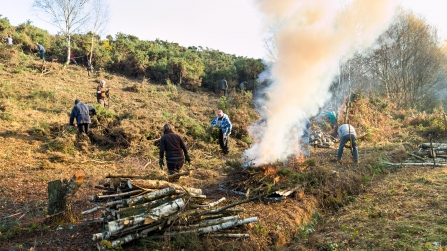 Access and conservation improvements at Teigngrace Meadow have been generously supported by Biffa Award.
Become a member and support our work
The vital work we do for nature depends on the support of people who care about the future of Devon's wildlife and wild places.
Teigngrace Meadow nature reserve leaflet