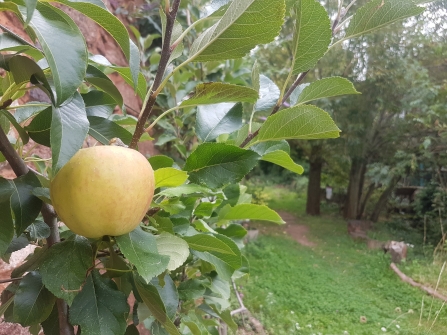 Another year in the garden and another mixed bag of weather with some record breaking temperatures and so far this summer not much rain.  Although this has been challenging for our plants and wildlife it has enabled us to make good progress with our various projects.
The orchard now has a second wire which has enabled the apple and pear trees to be fully espaliered, although this is still very much an ongoing and delicate operation so as not to create too much stress on the new growth.  We have also added native perennials at the base of the trees, even though much of this is hidden at the moment by a previously mown perennial wildflower area that has decided to re emerge for another year!
We have also taken a new approach with our main wild flower meadow and instead of an annual cornflower mix we have sown a Culm grassland perennial mix that we received from one of our reserves.  So instead of clearing the ground on a yearly basis we will now just cut back twice a year and let nature take its course.
The Potager garden I am happy to say is more hit than miss this year thanks mainly to one of our volunteers who has an allotment and has shared the benefit of her experience.  Despite the lack of water and feral pigeons who have been enjoying tasty snacks of pea shoots and cabbages, most of our vegetables have survived.  In addition to this we have created a new planting area for soft fruits and have planted some raspberry and currant bushes surrounded by strawberries.  So far, we have had one raspberry which I am afraid to say I could not resist....and it was delicious!  Here's hoping for many more.