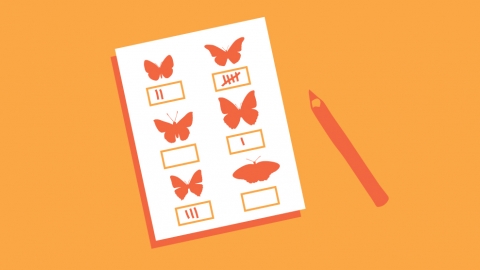 How to take part in a citizen survey
Stand up for wildlife and help us learn more about our environment across the UK.
How can you get involved in Devon?
Devon is the third largest county in England, so to find out what species and habitats are here, and how they are fairing, we have a huge amount of ground to cover.  With your help, we can gather much of the information that underpins our work, informs our understanding of the state of Devon's biodiversity, and helps us influence decision makers locally and nationally.  The following projects have opportunities for volunteers to get involved within the county, and help generate critical intelligence on the status of some of our incredible species, or habitats.  Each project will have varying levels of skill required to participate, from complete novice to experienced botanical surveyor, and they will offer a mix of online training resources, on-site workshops, alongside ongoing support.  Find out if there is one near you, or that you participate in at a county scale.
Saving Devon's Treescapes - County wide surveys, core areas are Exeter & Cranbrook, Coly Valleys, Torbay and Malborough.
Devon Bat Survey - This year's Devon Bat Survey aims to find out what bats are about in 4 of the Saving Devon's Treescapes core areas (see above).
Conservation Communities - 11 parishes between Great Torrington and Hatherleigh.
Green Minds - Plymouth
Devon Wildlife Trust's partner Devon Biodiversity Records Centre (DBRC) have lots of ongoing species surveys in Devon, including partnerships with other groups and organisations. For a full list of current DBRC projects and surveys, go to their website here.
Why do citizen science surveys matter?
Over the last 50 years, 56% of our species have declined, while 15% are at risk of disappearing from our shores altogether. With your help we can reverse this decline. Together we can bring nature back from the brink, but to do that effectively we need as much information as possible about our wildlife.
Taking part in a citizen survey and recording your sightings helps identify the state of nature across the UK

 
Information collected by thousands of ordinary people helps us understand where animals are found and how they behave. Over time, we can use this information to learn about daily, seasonal and yearly changes in species, the habitats that species use and favour, and how we can improve the chances of survival for our wildlife. 
Get involved!
Taking part in a citizen survey and recording your sightings helps identify the state of nature across the UK. Here are just some projects you can take part in: