Our mission is to bring Devon's wildlife back across landscapes, rivers and seas.
By 2030, we want to see at least 1 in 4 people actively engaged with wildlife and we want everyone in Devon to make action for nature's recovery part of their daily life. A key part of this will be to mobilise community action; to inspire and enable the creation of wildlife-friendly villages, parishes, towns and cities to support nature's recovery in Devon.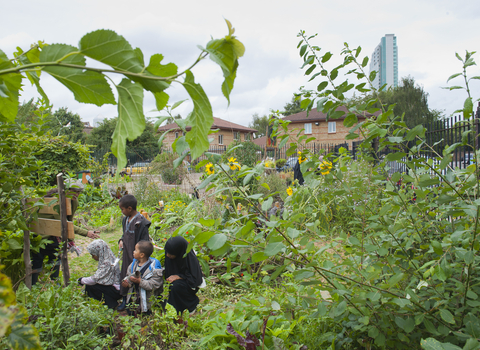 Wilder Communities team is here!
We are inspired by the number of community contacts and requests that we receive and we have set up a new Wilder Communities team as a result.  If you would like guidance on how your community can support wildlife and nature's recovery, please contact us via wildercommunities@devonwildlifetrust.org
Your journey to a wilder community starts here..
We have plenty of guidance and top tips to help you create a wildlife-friendly community, including packs from our national Action For Insects campaign, guides from our projects and links to resources created by our partners. Scroll down to find information on how you can make your village, town or city a haven for people and wildlife,
Banks and Verges

Our Conservation Communities Officer, Jo Pullin, coordinated a community 'Life on the Verge' project in North Devon that has now finished, which includes guidance on road verge management. These documents are available on the Tarka County Trust website: Life on the Verge - Tarka Country Trust

Devon County Council also have advice about managing verges for wildlife on their website: Life on the Verge in Devon - Environment

If you are managing an area for wildlife, we recommend that you don't use pesticides, as they can have a devastating effect on insect populations, which carry out vital services such as pollination of crops and wildflowers, pest control and nutrient recycling. You can find examples of how communities and councils are boosting insect populations with chemical free solutions in our Action For Insects community guide. You can also find guidance on pesticide alternatives on the Pesticide Action Network website.

If you are interested in starting any community projects to manage your local area for wildlife, you can contact Devon County Council, as well as your local Parish Council, for advice and to ask for permission to work on verges, parks and gardens. They will be able to provide official guidance, including information about the road safety online training course, which is essential for carrying out road verge maintenance. You can get in touch with the Devon County Council ecology team who cover this work via email: nature@devon.gov.uk
Connecting habitats

Many of our natural spaces are disconnected by human developments, making it difficult for animals to move between areas where they can find food and shelter. We can help animals by connecting these habitats:

Create a hole in your fence to help hedgehogs forage – find guidance here.

Create a pond to provide wet habitats for amphibians and other wildlife (see 'Ponds' section below).

Artificial lighting is thought to increase the chances of predation on bats and disturbs their roosts, impacting when bats emerge and forage at night. The lighting may also confuse other nocturnal animals like moths. There are different ways you can consider reducing or changing lighting to help nocturnal wildlife - see guidance below.

Hedges provide important shelter and protection for wildlife and they are often the only link between other isolated patches of wildlife habitat scattered across the landscape. You can help connect these habitats by planting and managing hedges for wildlife (see 'Hedges' section below).
Education and Engagement

We want more young people to connect to nature.

It's why we work in schools across the county teaching children and young people about the beauty, fun and importance of wildlife and how we can help protect it.

Find out more about our work with schools here.

Discover our fantastic learning at home resources here.

Sign up for the schools Action For Insects pack.

It's not just about formal education! 30 Days Wild is The Wildlife Trusts' annual nature challenge where we ask the nation to do one 'wild' thing a day every day throughout June. We offer packs to inspire people to go wild, whether they are a family, school, business or care home. Find out more here.
Gardens and Allotments

Gardens and allotments are part of a patchwork of green spaces across our towns and cities which are hugely important for our wildlife. The smallest of changes can make a difference - from cutting out pesticides to companion planting, there are lots of ways you can help. We have lots of ideas and tips to help you garden for wildlife, regardless of the size of your patch!

Wildlife Awareness Allotment Award

Everyday Actions To Help Wildlife – includes how to plant flowers for pollinators, making compost and much more!

The Wildlife Trusts and the Royal Horticultural Society set up Wild About Gardens, to celebrate wildlife gardening and to encourage people to use their gardens to help support nature. See the guides below.
Hedges

Hedgerows criss-cross over our countryside providing vital habitat for our wildlife as well as acting as corridors for species dispersal. Devon's hedges are of great historical importance, defining the county's beautiful farmed landscapes, and supporting an immense amount of wildlife. The Devon Hedge Group helps ensure that Devon's amazing hedges remain intact and healthy for future generations to enjoy. You can find their guidance here.

Hedges provide important shelter and protection for wildlife, particularly nesting birds and hibernating insects. You can find tips on how to create a hedge for wildlife here.

Take a look at our Managing Hedges for Wildlife video, led by the Conservation Communities project.
Marine

Whether you live on the coast or inland, it's important to take steps as a community to protect our seas.

It is estimated that 80% of marine pollution in the sea originates from the land. Help protect wildlife by picking up litter in your local area – find a guide here.

Plastic waste and its damaging effect on our seas and natural world has been big news over the last few years. A lot of the single-use plastic we use is not necessary and, with some forward planning, we can encourage eachother to reduce our plastic use. Find tips here.

The nooks and crannies of rocky reefs are swimming with wildlife, from tiny fish to colourful anemones. Discover the amazing range of animals living on our shores – download our rocky shore guide.

When we visit the seashore, we follow something called the 'seashore code'. This code gives us simple ways we can protect the wildlife on the rockyshore. Download the seashore code here.

At the moment we don't have any Highly Protected Marine Areas in UK waters - and we want to change that! Highly Protected Marine Areas could be the gold standard of marine protection: the first of their kind in the UK. All damaging activities including fishing, construction and sea angling dredging would be banned, meaning nature could properly recover. Imagine how incredible our oceans could be if given the chance? Help our seas recover with HPMAs.
Nature Recovery Networks

Devon Wildlife Trust are leading development of a Nature Recovery Network Map for Devon. This map will show existing habitats together with information about where to restore habitats. This map and its supporting documents are likely to form part of the Local Nature Recovery Strategy for Devon when these come into law via the Environment Act.

The development of the Devon NRN Map will take several phases with the first being published this summer 2021. A link will be added once this goes live.
Planning Applications

We regularly receive many requests from the public asking us to intervene on planning applications and decisions. Where we can make most difference for wildlife we intervene and make a stand.

We are not currently able to respond to the majority of planning applications. However, this doesn't mean we can't offer help.

We have compiled a step-by-step guide for people who wish to object to a planning application for development on wildlife grounds. See our DIY planning guide below.
Ponds

A wildlife pond is one of the single best features for attracting new wildlife to a garden and can provide a home for frogs, newts, dragonflies and other wildlife.

Our website has guides on how to build a pond, big or small.

For information about ponds and tips on how to manage them throughout the year, download the Wild About Gardens guide below.
Rivers and Streams

From otters to freshwater shrimps, all animals are dependant on an abundant and reliable supply of clean water. Rivers sustain the natural environment, wildlife and people in equal measure.

Watch what you wash away

Some cosmetics, soaps, washing-up liquids and cleaning products can be harmful to wildlife with long-lasting effects. We wash many of these chemicals down our drains when we wash up or clean our kitchens and bathrooms, flushing them into rivers and seas. Find tips on how to help wildlife in rivers and seas here.

Aquatic insects are vulnerable to the pesticides and chemicals which run off into rivers from the land. Help make your waterways healthier for people and wildlife by making your garden a chemical free zone or download our Action For Insects community pack.

Surveys

The Riverfly Partnership is a unique data collection programme, hosted by us at the Freshwater Biological Association, which engages in the management and conservation of freshwater environments through surveying of aquatic insects. The samples they collect reflect water quality and can help inform future river restoration work.

If you are interested in protecting the riverfly populations, and their habitats, in your area, you can become a Riverfly Volunteer with The Riverfly Partnership. Go to the website and check out the events page for Riverfly training events near you.
Species Surveys

Information collected by thousands of people helps us understand where animals are found and how they behave. Over time, we can use this information to learn about daily, seasonal and yearly changes in species, the habitats that species use and favour, and how we can improve the chances of survival for our wildlife.

We would be delighted to hear about any wildlife you have spotted across Devon.  Whether it's something very rare or something relatively common, please do take a few minutes to make a wildlife sightings record with the DWT's partner, the Devon Biodiversity Records Centre (DBRC). Record your sightings here.

Our Conservation Communities project is working in 11 parishes between Great Torrington and Hatherleigh to record as much about the natural environment as possible. If you are in one of these parishes, you can join training sessions or book equipment to discover and record wildlife in your area! Find out more about how to get involved with the project here.

Devon Wildlife Trust is part of the Green Minds project, working with communities across Plymouth to give a voice to nature in the city. This project will be running a series of training and survey events to better understand the state of Plymouth's wildlife. Get involved here.

Our Saving Devon's Treescapes project will be monitor trees as well as key species to help us better understand the health of Devon's treescapes. Start surveying here.

DBRC have lots of ongoing species surveys in Devon, including partnerships with other groups and organisations. For a full list of current DBRC projects and surveys, go to their website here.

To take part in a national citizen science survey, click here.
Take Action For Wildlife

At Devon Wildlife Trust we want to stand up for nature. Whether you support a campaign, volunteer for wildlife or donate to an appeal - together, we believe we can make a difference. Find out how you can take action.

Join our Wilder Future campaign

There are various laws to protect nature, but there are no laws that support bringing nature back.  

One way to halt the devastating decline in wild places and healthy wildlife populations is through a recovery network for nature. The Wildlife Trusts want to see at least 30% of our land and seas recovering  by 2030; bringing wildlife back into everybody's lives.

Join thousands of others and show your support for nature's recovery. 

Case Studies

Communities can make fantastic changes to help people and wildlife thrive. Teignbridge demonstrate a brilliant example of this with their Action on Climate in Teignbridge (ACT) group, set up to help residents and councils build climate friendly communities and sustainable economies across the district.

Our Action For Insects Community Pack also demonstrates what communities can achieve in supporting our vital insect populations.

Devon Wildlife Trust led the Devon Greater Horseshoe Bat Project, a 5 year partnership project of 18 organisations. Part of this project involved establishing bat friendly communities, planting wildflower gardens, organising bat walks and raising awareness of the importance of these animals. You can find about about the experiences of these community groups here.

Jess Smallcombe, an ecologist for the Devon Biodiversity Records Centre, helps community projects across the trust. Take a look at our video where Jess explores County Wildlife Sites and communities in action.
Tree Planting

Our Saving Devon's Treescapes project can offer free trees (whips) for planting in your garden or any land where you have permission. We're giving these away at local distribution hubs where you can collect a free cell grown tree, a planting guide and tree protection. Find out more here.
Volunteering and Skills Training

Devon Wildlife Trust helps facilitate Devon Local Groups, made up of DWT members and volunteers who give their time and energy to complement the Trust's work in their local community. Join a community of passionate individuals and find a local group near you here.

If you are interested in meeting nature enthusiasts and learning new skills, consider joining our volunteers team. Contact volunteering@devonwildlifetrust.org or take a look at our volunteer page.

Take a look at our ID training videos
Wildflower Meadows

Wildflower meadows provide an amazing splash of colour and are fantastic feeding stations for pollinators. Meadows can be anything from a patch of grass left to grow long, to a managed area that is stripped of turf, raked and sown.

Find guidance on how to create and maintain wildflower meadows here and in the leaflet below.

Take a look at our Action For Insects community guide for top tips on community meadows.

Devon Wildlife Trust works closely with the Exeter City Council on the Exeter Wild City project, supporting community wildlife initiatives and enhancing the wildlife value of green spaces like creating wildflower meadow areas. If you live in Exeter and are interested in this project, join our Facebook group today and help build the Exeter Wild City community!

We also work with the local community initiative 'Moor Meadows', whose members are interested in conserving, restoring and creating wildflower meadows. You can find help and advice on how to create and maintain your meadow here.

Listen to Conservation Manager Ed Parr Ferris delve into the world of grasslands and meadows.
Coming soon: 'Wilder Communities - Bring Back Nature to your Community'
Do you need practical guidance?
Devon Wildlife Trust has a consultancy service that advises on habitat creation and restoration projects, for a fee. Devon Wildlife Consultants is DWT's consultancy arm. You can find details of the habitat creation work they carry out on the DWC website which also has a contact form or you can email dwc@devonwildlifetrust.org