Culm Grassland Natural Flood Management Project
How can Culm grassland help us to manage flooding?
In principle, wildlife habitats within a river catchment can hold back water and help to prevent flooding downstream. But how does this work in practice?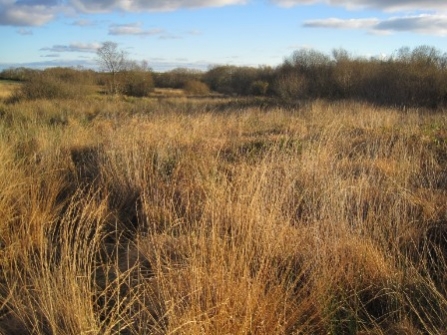 The benefits of Culm
Over the last five years, Devon Wildlife Trust has worked closely with the University of Exeter and other partners to examine the wider benefits of Culm grassland.
This rare habitat, a type of purple moor-grass and rush pasture peculiar to north Devon, is important for biodiversity; but it also has real potential to hold water, filter pollution and retain carbon. Understanding all of these 'ecosystem services' helps society to understand just how important these habitats can be.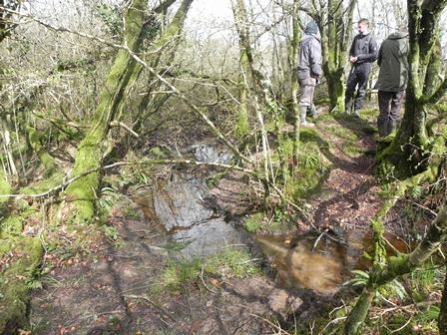 Increasing our knowledge
Research to date by University of Exeter across a number of sites in north Devon has shown that Culm grassland can hold up to five times as much water as intensive grassland in extreme weather events.
The analogy often used is that Culm grassland acts a little like a 'leaky bucket', holding and releasing water more slowly than more intensive land uses. Results have also shown that Culm grassland can play a significant role in reducing nutrient pollution and storing carbon. Much of this benefit from Culm grassland comes from its uneven and tussocky vegetation layer.
We have developed our knowledge about how Culm Grassland holds water through new Ph.D research with the University of Exeter. Find out more about this research here.
The economic value of Culm grasslands report below describes how research data has been used to build the first ever picture of the financial value of ecosystem services delivered by culm grassland.
Reports about this research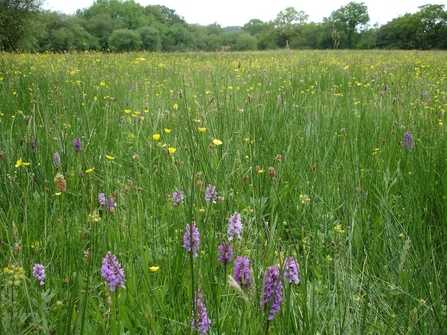 Celebrating Culm grassland success!
DWT have been working with farmers and landowners to protect and restore Culm grassland since 2016.  The project's achievements included:
Restoring 95 Culm grasslands, covering 468 hectares
Creating 32 new wildflower grasslands, covering 99 hectares
Working with 277 farmers and landowners
Positively impacting 46.3km of river
Installing 15.7km of new fencing and 28 new gates
Receiving 1,496 hours (nearly 200 days) from 66 dedicated volunteers
Harvesting 395 green hay bales to create new grasslands
DWT will continue working with project partners and landowners in north Devon as part of the Northern Devon Natural Solutions project from 2021, broadening our advice across farms to make the most of all the benefits that natural solutions and wildlife habitat can bring.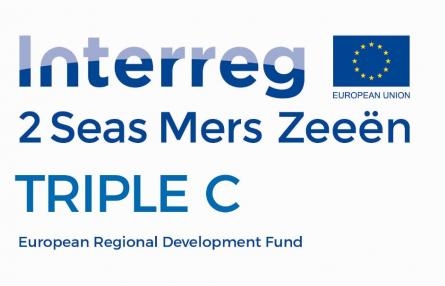 Triple C project
Our latest project started in October 2016 and ran until September 2021. It was supported and funded by the Environment Agency (EA), Devon County Council (DCC) and the European Union through Interreg 2 Seas. Delivery was supported by a partnership of EA, DCC, the University of Exeter and Natural England.
The Interreg Triple C project (Climate resilient Community-based Catchment planning and management) implemented a set of cost-effective, innovative actions to reduce flooding. A new participative approach to problem-solving and implementation with landowners was developed. Upstream implementation of water retention and erosion control measures will reduce flooding and associated issues further downstream. Our project on Culm grassland contributed to Triple C and shared knowledge with other project partners in the UK, Belgium and the Netherlands.
Find out more about Interreg Triple C.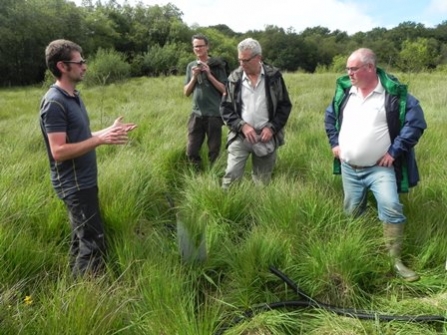 The project aimed to:
Learn more about how Culm grassland and wet grassland can help to hold and release water in catchments (through Ph.D. research and modelling)
 

Increase everyone's understanding about the value of Culm grassland, and the role they can play in its protection and re-creation (through workshops and training)
 
Work with landowners to protect, restore and re-create Culm grassland sites across north Devon (through free farm advice, grants and practical work, targeted to high flood risk areas)
 
Share our learning with others across the South West, UK and Europe
Understanding how Culm grassland works in practice in a complex landscape will increase our knowledge and help farmers and flood risk engineers to evaluate the wider practical benefits of this important wildlife habitat. By actively managing existing habitat and creating new grassland, landowners can make a real contribution to this effort.
Our partners and funders for this project include:

If you would like to find out more about the project:
Contact:
Emma Richardson, Director of Nature-based Solutions
Support our work
The vital work we do for nature depends on the support of people who care about the future of Devon's wildlife and wild places.