Celebrating & promoting the natural beauty of the south Devon coastline
Wembury is a magnet for wildlife – its rocky cliffs are home to nesting seabirds and the rocky shore, slate reefs and massive wave-cut platforms provide one of the UK's best spots for marine life.
UPDATE: Wembury Marine Centre is looking forward to opening our newly upgraded centre on Saturday 26th June 2021.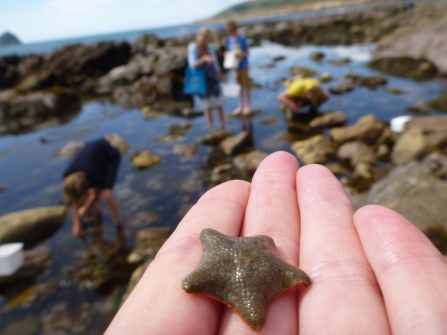 The best place to learn about marine wildlife
Our ever-popular Centre is the best place to learn about Devon's amazing marine wildlife. Inside you'll find interactive displays, games and fish tanks with live exhibits . The Centre also explains the part we can all play in keeping Wembury special.
All through the summer the Centre hosts Rockpool Safaris and a full calendar of events (including snorkel adventures) which combine fun with fascinating learning.
The Centre is run by Devon Wildlife Trust, as part of the Wembury Marine Centre partnership.The Visitor Centre was built in 1994 and refurbished in 2006 thanks to a range of funders, including a legacy in memory of William and Helena Heath (nee Hurrell), beloved parents of Dorothy Harris.
In autumn 2019 Wembury Marine Centre received the good news that it had received £9,000 National Lottery funding to support its work for marine education and awareness.
Opening times
We are excited to announce that, subject to Government restrictions easing further on June 21st, we will be opening our doors to the public once again on June 26th 2021! There have been lots of exciting changes taking place over the past year, so be sure to come and visit us Tuesday-Sunday over the summer season.
Discover the animals of Wembury's rocky shore
Love the beach? Brush up on The Seashore Code:
Coming up at Wembury Marine Centre