Explore the senses
Humans and other animals have five senses - sight, hearing, touch, taste and smell. We can use the senses to explore nature. Use the activities below to help you discover wildlife in and around your home.
Download The Senses Learning Resource ks1 & ks2
Nature's music
A fun activity to start the week off! Can you make a musical instrument using natural objects? Click on the photo for 2 ideas or use your imagination to create something different! Have a search around your house or garden (with permission from an adult) to find some materials - it could be a shaker, a wind or a string instrument! 
Find the rainbow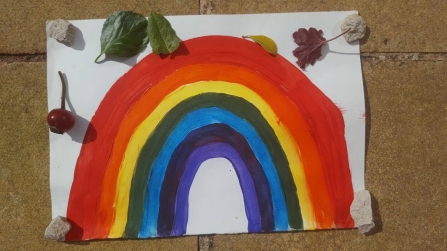 This activity is all about sight! Your eyes are designed to see what's around you, both close up and far away. Animals also use sight to find food, shelter and spot predators! This activity helps you look a little harder at what's around you. 
First you need to paint or draw a rainbow! 
In your garden: Collect natural items which match all the colours in your rainbow (don't pick any flowers without permission)
From your window: Look for all the colours in your rainbow and tick them off once you've spotted them.
An extra activity: Challenge your family to a race to find all the colours of the rainbow
What you'll need
Questions to ask 
Why do you think the objects are the colours they are?
Are they trying to attract something or maybe scare
something away?
Smelly Potions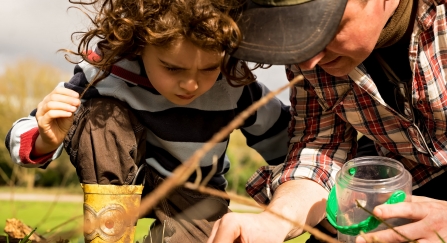 Find a pot and a stick to stir. Go on a hunt for things to make your potion with like leaves, grass, mud, flowers. Mix them all together and add a little bit of water.
 Note: Only pick flowers that are everywhere like daisies and dandelions, unless you're in your own garden with an adults permission –just leave some for the bees! Also this is a smelling activity not a tasting one - nothing picked is to be eaten!
What you'll need
Questions to Ask

A pot like a yoghurt pot or jam jar
A stick

Does your potion smell good or bad?
Does your potion have a name?
What could your potion be used for, does it have a special powers?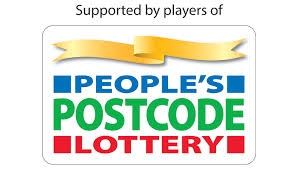 Thanks to Player's of Peoples Postcode Lottery for supporting the production of these online resources
Join the conversation
Everyday we are posting ideas for things to do on our Facebook page. If you've taken part in any of these activities, take a photo and get an adult to share it with us and help inspire others to get involved!