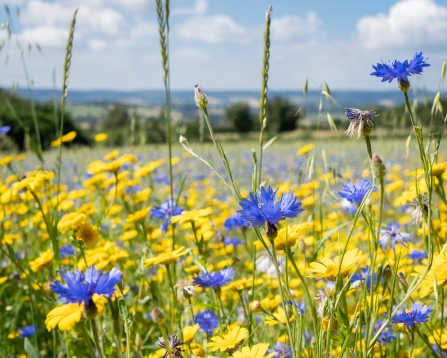 An Exeter wildlife haven, much-loved by local people, is set to receive a significant boost which will lead the way to the planting of more trees and wildflowers, along with improved access for the public.
Ludwell Valley Park is a mix of green pastures, hedges and wooded copses covering more than 50 hectares of rolling countryside, just a mile from the city's busy centre.
Since 2019 it has been cared for by Devon Wildlife Trust, after its management was passed to the charity alongside that of five other popular Valley Parks by their owner, Exeter City Council.
Now the charity has announced that it has received a grant of £48,692 from Viridor Credits Environmental Company through the Landfill Communities Fund. The support will enable Devon Wildlife Trust to make a series of improvements, helped by local volunteers including those from Ludwell Life community group.
These works will mean transforming nine hectares of what are presently deemed 'species-poor' fields and sowing them with a rich mix of wildflower seeds. This promises to bring more colour to the Valley Park, while also creating a vital resource for local birds, including goldfinches and house sparrows, and insects including bumblebees and butterflies.
Much of Ludwell Valley Park's network of hedges will also get some attention. Funding from Viridor Credits will see 1.5 kilometres of them being 'laid' – a management technique where they are cutback to stimulate new growth. This traditional management will be carried out during the winter, carefully avoiding disturbance to nesting birds. Greenfinches, dunnocks, song thrushes and blackbirds all stand to benefit from the creation of new nesting places next spring.       
A new pond and the planting of apple and cherry trees is also scheduled to take place. The trees will join Ludwell Valley Park's established orchards, some of which date back more than 100 years to when the area was farmland beyond the city's boundary.
Devon Wildlife Trust's Chris Moulton has helped manage the city's Valley Parks for more than 20 years. Chris said:
"Support from Viridor Credits will help us implement key improvements to Ludwell Valley Park. The benefits for wildlife should soon become apparent as next year's newly laid hedges will be alive with birdsong. Insects will take advantage of the new areas of wildflowers, while frogs, toads and newts will begin to colonise the newly dug pond."
And it won't just be wildlife which is set to see the benefit from the new investment. Devon Wildlife Trust has also decided to use its own resources to fund the installation of four new kissing gates and four new field gates, making access easier for the thousands of visitors the popular Valley Park receives each year.
Chris Moulton said:
"Ludwell Valley Park provides the people of Exeter with a much-needed open space in which to exercise and have contact with wildlife. We've been reminded of its importance over recent weeks as local people have told us how much they love it, and how it has been the place they can go to stretch their legs and be reminded that there is a life beyond lockdown. The improvement of gateways and kissing gates will mean that more people can benefit from this wonderful haven."
Alison Salvador, General Manager at Viridor Credits, said:
"Congratulations to Devon Wildlife Trust on securing this award from the Landfill Communities Fund (LCF). Providing quality community space for everyone to enjoy and improving habitats for wildlife are two of the main aims of the LCF and this project will do both. We are delighted and proud to be able to support the work in this important local park which will greatly improve access for everyone wanting to enjoy the valley. We look forward to seeing the finished works and the park being used by visitors of all kinds in the near future."
Cllr David Harvey, Lead Councillor For Environment and City Management, Exeter City Council, said:
"Green spaces in Exeter are so important for everyone who lives in and visits the city and this funding is very welcome news. At times like these you appreciate your green spaces more than ever and the ability to get out for a walk or jog in their beautiful surroundings. I for one can't wait to see the result of this funding and how Devon Wildlife Trust will enhance the Park further still."
Ludwell Valley Park is one of 57 nature reserves cared for by Devon Wildlife Trust throughout the county.