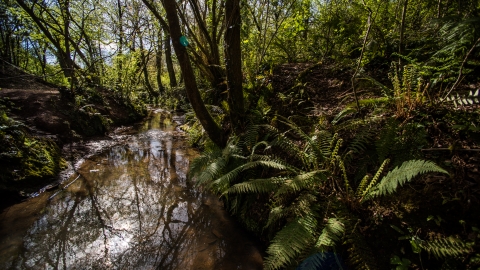 Discover tranquillity with a gentle circular path through woodland, alongside a stream and an orchard. Climb Stoke Hill for wilder walks through wildflower meadows and tree-studded parkland, to enjoy the views across the city to the Exe Estuary.


When to visit
Opening times
Always
Best time to visit
Any time
About the reserve
Mincinglake is one of six Exeter Valley Parks managed by Devon Wildlife Trust. 
There is easy access for visitors by car.  It is a wonderful location for manageable and pleasant stream side and wooded walks, meadows and parkland. Part of the Valley Park was created from a former waste tip, capped in the 1970s! It also caters for those who enjoy some hillier walks too, with long views towards the estuary.  
Did you know, Mincinglake comes from the old English words for 'Nun's lake' a reference to the 'Greater Polsloe Pond', a lake created when the St. Katherines Priory nuns dammed the stream in the 12th century?
NOTICE: If you are visiting our reserves, please note that there have been instances of H5N1 Avian bird flu found in birds in Devon. There is very low risk to public health but we do ask that if you come across any unusual or unexplained bird deaths on or near our reserves please do not touch them. Call Defra on 03459 33 55 77 and report your findings. Please also report your findings to DWT by email at contactus@devonwildlifetrust.org
Species
Download your free map and guide to exploring Mincinglake Valley Park
Watch an introduction to Mincinglake Valley Park
Site Improvements
We're delighted and very grateful to have been awarded a grant of £17,153 by Viridor Credits Environmental Company through the Landfill Communities Fund.  This has enabled us to make some much-needed access improvements at this site over summer 2021, namely to:
improve 135 metres of paths and replace some steps with a ramp
upgrade the wooden footbridge over the stream
remove some gates and stiles at key access points
install new way-finder posts and welcome panels
These improvements have been made in response to community feedback and we're really excited to be able to carry out the works at this much loved local park.
We are also grateful to The Dixon Foundation for their enabling donation on this project.