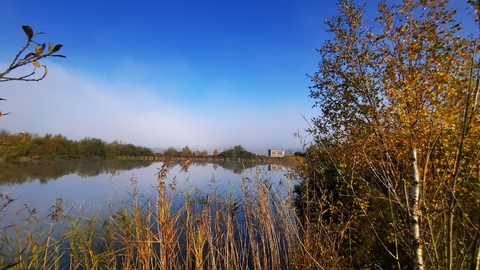 150 hectares of rolling landscape, deep water filled lakes and beautiful views

IMPORTANT NOTICE

Access to this Devon Wildlife Trust managed nature reserve/site

During the current Covid-19 outbreak we have reduced staffing levels at this nature reserve. As a consequence its car park will be open Saturday and Sunday 9am til 5pm, Monday to Friday 9am til 5pm. The nature reserve remains open to access at all times as normal.

The bird hide also remains closed at this time.

Know before you go
Parking information
There is lots of parking at the entrance of Meeth Quarry
Grazing animals
Exmoor ponies graze here
Walking trails
A series of colour-coded trails allows access on foot, bicycle, horseback or mobility scooter. The Quarry adjoins DWT's existing nature reserve at Ash Moor and is adjacent to the Tarka trail for those wishing to explore the area. A three-mile Meeth Quarry Wild Walk acts as great introduction to the area.
Swimming or use of any water craft is prohibited at Meeth.
Danger – deep cold water.
Access
The Red way-marked trail is suitable for wheelchairs and mobility scooters. 
When to visit
Opening times
The car park is open 8am - 8pm Sat and Sun and 9am - 5pm Mon to Fri.
Best time to visit
All year round
About the reserve
A Devon Wildlife Trust nature reserve experience like no other – Meeth Quarry's industrial past has produced a fascinating landscape for wildlife today.
NOTICE: If you are visiting our reserves, please note that there have been instances of H5N1 Avian bird flu found in birds in Devon. There is very low risk to public health but we do ask that if you come across any unusual or unexplained bird deaths on or near our reserves please do not touch them. Call Defra on 03459 33 55 77 and report your findings. Please also report your findings to DWT by email at contactus@devonwildlifetrust.org
How to get to Meeth Quarry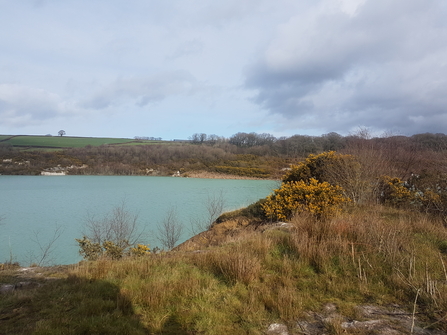 A rich history 
Until the late 1990s Meeth was a busy quarry producing clay for export.
At its peak, in the 1970s the quarry employed nearly 50 local people and produced 70,000 tonnes of clay per year. Much of this clay was used to make tiles, toilets, sinks and basins. 
Anyone who recalls the nature reserve when Devon Wildlife first took it on in 2013 will have memories of the huge warehouses which stood overlooking the reserve's car park and main entrance.   
The 'clay sheds', as they were known, were on a gargantuan, cavernous scale. They suited the place in its former guise of Meeth the working quarry, when vast pits were dug by men and machines searching for the seams of clay that lay hidden in the earth.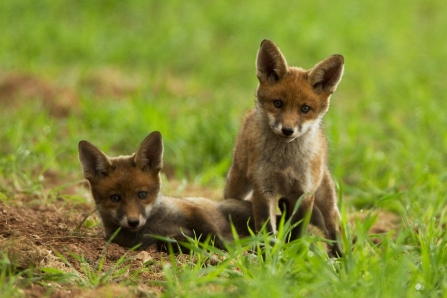 New beginnings
Now that the clay sheds are finally gone it seems to signal the new beginning of Meeth's next incarnation as a haven for wildlife and place for people to enjoy. 
Nothing better seems to sum this up than the new wildlife watching hide which has risen on the banks of the nature reserve's Stockleigh Lake – one of three large water bodies contained in this huge 150 hectare reserve.
But before reaching the hide there's a lot of other features which are new. Ponds have been dug, ditches have been restored, hedges laid and new stock-proof fencing installed along Meeth's grassland fields. Fencing doesn't sound glamorous but it plays a vital role in allowing local reserve officer Ian Chadwick to control where and for how long Meeth's small herd of Exmoor ponies are allowed to graze.
Their controlled nibbling is bringing colour back to the grasslands. In spring and summer fields that were dominated by the green of rushes now contain white, pink, blue and yellow from wildflowers including orchids, lady's smock, knapweed and bird'sfoot trefoil.
The improvements brought about by Ian and his team of volunteers is bringing a wildlife return. Foxes and hares, newts and grass snakes, adders and common lizards, roe deer and wood white butterflies are some of the species found here.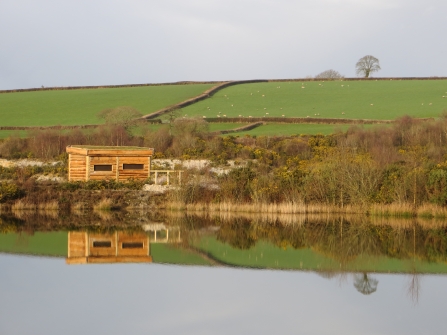 Reaching the hideout
On reaching the wildlife hide, it's immediately obvious that this is no ordinary wooden box. Most notable is its beautiful sedum 'green roof', the presence of which gives the hide a permanent feel, as if its already become part of the landscape.
From inside the hide the views are wonderful. The view drops away across the blue-grey water's edge of one the reserve's massive lakes. It's the perfect place to see (and not be seen) by the local birdlife. On a 'normal' day you should hope little grebes, water rails, goosanders, tufted ducks and (lots!) of coots.
Stay for longer, and with a slice of luck, you could encounter a real rarity, such as the ospreys that have been known to stop off looking for a fish lunch in Meeth's deepwater on their migration to and from the lochs of Scotland. Barn owls, peregrine falcons and merlins have also been seen around the reserve.
From the hide even massive water bodies of Meeth Quarry are beginning to look different from how they did at the beginning of Devon Wildlife Trust's tenure in 2013. Their edges are softened with the hundreds of reeds planted by Ian and his team of volunteers. The look of a quarry is giving way to that of a lake.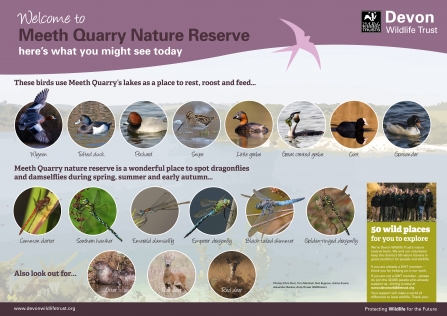 Become a member and support our work
The vital work we do for nature depends on the support of people who care about the future of Devon's wildlife and wild places.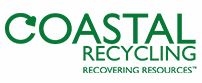 The nature reserve's visitor facilities have been improved thanks to funding from Coastal Recycling.
Meeth Quarry nature reserve leaflet