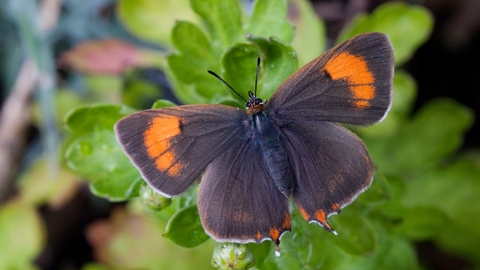 Brown Hairstreak butterfly monitoring (Monday 06 December)
Location:
Near Angersleigh (exact details to be shared after registration),
TA21
Book
As part of the Saving Devon's Treescapes project we will be monitoring Brown Hairstreak butterfly populations across Devon.
About the event
Brown Hairstreak butterflies are important for us to monitor and record because they rely on well connected, high quality treescapes for all stages of their life cycle. Brown Hairstreaks are therefore a very good indicator of the health of our treescapes. Devon is also one of the last national strongholds of this scarce butterfly.
Jess Smallcombe from DBRC will be leading the session. We'll go through everything you need to know to spot your first egg and how you can continue recording across winter.
Final details about the event including the exact location and what to bring will be sent nearer the time. This event is aimed at adults although older children are welcome to accompany. The event will be unable to go ahead if it is raining heavily and therefore we may need to cancel it at short notice. The session will involve walking uncross uneven, muddy ground.
If you want to get involved but are unable to attend this session, we also have training sessions happening in each of our project focus areas: Exeter, East Devon and Blackdown Hills AONB. You can also watch the training session online here or if you already know what to look for then you can starting recording online here.
Saving Devon's Treescapes is led by Devon Wildlife Trust on behalf of the Devon Ash Dieback Resilience Forum. It's a partnership project supported by the National Lottery Heritage Fund as well as other funders. Read more about the project and find other ways to get involved here.
Thank you to the Halpin Trust providing funding which allows us to put on this training.
Booking
Price
Free
Suitable for
Adults, Beginners
Know before you go
Parking information
Available