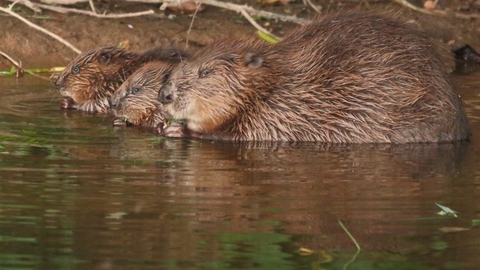 Returning the Eurasian Beaver to Devon (and England)
Location:
Online event,
This is an online event held on Zoom
Book
Beaver project leader, Mark Elliott, will discuss the beaver trial, it's key findings and the future of the beavers.
Event details
Date
About the event
In August 2020, the government made the momentous decision that the wild River Otter beavers would be permitted to remain in perpetuity and spread naturally into adjacent river catchments. This marked the first authorised reintroduction of a mammal back into the English landscape and followed the successful conclusion of the 5-year River Otter Beaver Trial (ROBT), which was led by Devon Wildlife Trust, working closely with the University of Exeter, Clinton Devon Estates and Derek Gow consultancy.
Mark Elliott has managed the Trial on behalf of the Devon Wildlife Trust and has previously spoken to the Exmouth local group about the project. This talk will give an overview of the Trial and the key findings that have enabled Defra to make this decision. It will include detail on the monitoring of the beavers, their health and welfare and their impacts on the environment of the River Otter. It will also discuss the management of conflicts that they bring, and these will be managed over the next decade, as well as their wider reintroduction into Britain and the upcoming Defra consultation.
Find out more about the River Otter Beaver Trial here.
Booking