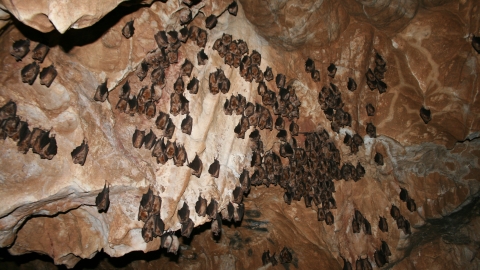 Brilliant Bats - Celebrating the Devon Greater Horseshoe Bat Project
Location:
Online event,
This is an online event held on Zoom
Book
Join Anna David, the DGHBP Team Leader, for an overview of the bat project, celebrating its achievements across Devon in the last six years.
About the event
The Devon Greater Horseshoe Bat project, supported by the National Lottery Heritage Fund and by 18 partner organisations across the County ran for 6 years and aimed to improve habitats, understanding and appreciation for this enigmatic and rare species. During this time, we engaged with thousands of people, created kilometres of hedges, hectares of woodland and brought the greater horseshoe bat into the hearts and minds of many in this beautiful county.
During the talk we will look at case studies including our creation of bat roosts, habitat creation, work with communities and schools and with a particular focus on the Devon Bat Survey- one of the largest and most successful citizen science projects in the South West.
Booking
Suitable for
Families, Adults, Experts, Beginners