Coasts are great places for hands-on wildlife experiences
Why not turn your next beach trip into a seashore safari!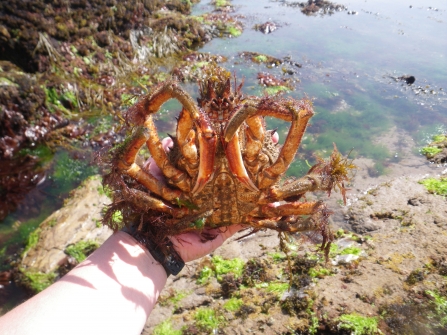 Devon is the place to start exploring seashore wildlife – it's the only English county with two separate coasts!
Our coasts support many different environments - cliffs, rocky shores, sandy beaches and dunes, muddy estuaries – each has its own unique wildlife
Coastal wildlife needs to be adaptable and tough – it's world is transformed four times each day with the coming and going of the tides
Love the beach? Brush up on The Seashore Code: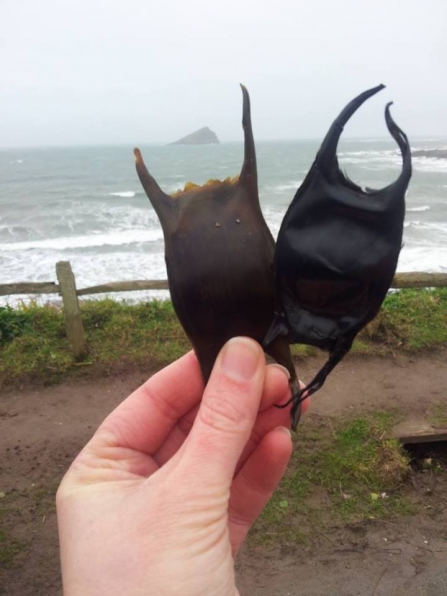 Stranded!
Because our coasts and the wildlife that live there are so diverse we're going to concentrate here on what you might expect to see at a 'typical' Devon beach.
Begin every visit with a walk along the last high tide mark – also known as the strandline. You'll spot it because the retreating sea will have left a band of stranded wildlife objects for you to discover.
Amongst clumps of sea weed you'll find empty shells. Common discoveries will include the two halves of mussel shells – blue on the outside and white on the inner. Look too for the leathery outlines of mermaid's purses. These are actually the egg cases of skates and rays. While the bleached surfboard shaped discs you'll discover are cuttlefish bones.
The strandline is also a good place to find stranded jellyfish. In recent years Devon's witnessed several mass strandings of barrel jellyfish, moon jellyfish and tiny by-the-wind sailors.
Devon is home to a fantastic diversity of marine life, from intriguing rocky reef species such as pipefish, spider crabs and tompot blennies, to the illusive yet cunning cuttlefish, predatory starfish and beautiful corkwing wrasse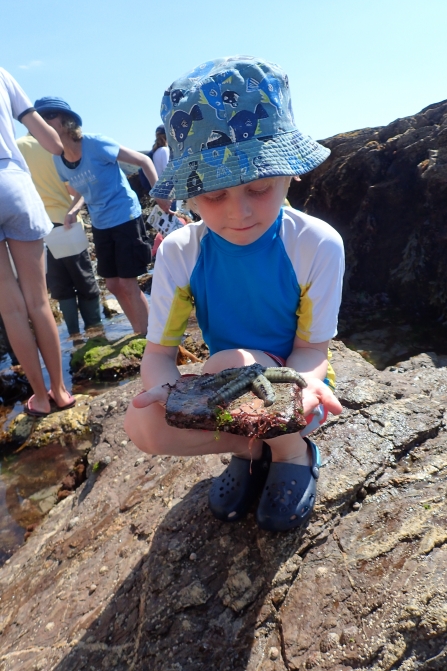 Summer days
Rockpooling is made for summer. As the beach gets crowded, cool down and escape to explore the tranquil pools at its rocky edges.
As the tide goes out it's possible to get up close with life beneath the waves. Shrimps can be found bobbing in rockpools, while crabs scuttle and hide under waving fronds of seaweed. 
Starfish cling to the rock face and kelp forests waft in the water, providing cover for snails and small fish. Molluscs, barnacles and anemones sit on the pool floor.
Rockpool plants and animals face a constantly changing environment with the tides. Fluctuating water temperatures, decreasing oxygen levels and an exposure to sunlight for long periods of time: life here has to be tough to survive the tides.
Start your marine adventure at Wembury!
Devon Wildlife Trust's Wembury Marine Centre is the place to begin your expedition of marine discovery. Wembury has some of the best strandline and rockpool wildlife anywhere.
Become a member and support our work
The vital work we do for nature depends on the support of people who care about the future of Devon's wildlife and wild places.