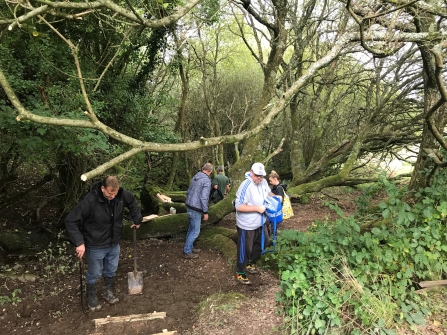 Wise people from the big house surrounded by Buddleia agonised "how shall we help them?"
"I know" said someone in the back," let's give them a knife, an axe and a scythe and teach them how to make fire!"
Don't worry this isn't the preface to a Stephen King novel you can come out from behind the pillow now.
My Name is Paul, for more years than I care to remember I had been using alcohol to sooth my tormented soul. After surviving a stroke and being told my arteries in my legs will only allow 70% of their normal blood flow I knew I had to change my ways if I wanted to see my grandchildren grow up.
My doctor suggested that I give up drinking with the help of drug and alcohol services, in my case the TOGETHER service part of EDP (Exeter drugs project).
I was encouraged to and shown how to cut down but I soon chose to kick the habit all together. I was sent to a treatment centre and enjoyed a medical detox. No really I did really enjoy it, I finally woke up after a 30 year sleep, it was amazing.
There followed group therapy, counselling and other new activities like drinking tea, remembering yesterday and talking to people.