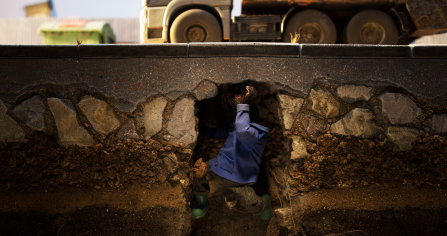 ...And sadly this is how many of us view the poor mole, despite his characterisation in Wind in the Willows as the honest, reliable, trustworthy team player, shy and lacking self confidence much of the time but never when it matters.  We typically damn little mole as no more than a pest, an intruder, a despoiler.  We have no time for his ugly earthworks and give him scant regard as we mow, pave, build, and tarmac.
What of the real mole? There are 39 species worldwide, and these are found in every continent except Antarctica and South America.  They come in a wide variety of sizes and colours, with some species large enough to prey on mice.  There are oddities, like the frankly unsettling looking star-nosed mole, a species that can detect and catch prey more quickly than the human eye can follow. There are semi-aquatic species too. 
But moles share some things in common.  They are loners.  Males (endearingly referred to as "boars") and females ("sows") come together for about an hour each year to mate, otherwise they actively avoid each other.  Mothers will raise four or so "pups", which grow at a phenomenal rate due to the exceptional maternal care and leave home for good after a few weeks. Adults actively avoid each other and males can fight aggressively.