Illustrated talks for local groups, schools & businesses across Devon
From managing 50 nature reserves to running a range of different projects, Devon Wildlife Trust is a diverse and active small charity. Learn more about our work by booking one of our talks...
Code
Service

Cost: DWT Local Groups & Wildlife Watch Groups

Cost: Not for profit groups & schools
Cost: Commercial
Groups 
T1
Introduction to Devon's wildlife and the work of the Trust 
n/a
£40
£90
T2
Wildlife for kids - Talk and activities
Free
£95
£125
T3
The role of our nature reserves - find out more about the Trust's 50 nature reserves
Free
£30
£60
P1
An introduction to beavers, their ecology and the work of the River Otter Beaver Trial 
Price on request
£70
Price on request
P2
Exeter Wild City - how green space is being enhanced and protected to create an urban beacon for wildlife
Free
£30
£60
P3
An introduction to the Working Wetlands project and how our advisers work with landowners
Free
£30
£60
P4
An introduction to Wembury Marine Centre. The work we do here and the UK's amazing marine wildlife
Free
£30
£60
W1
Walk: A guided walk around a DWT nature reserve
Free
Price on request
Price on request
W2
Walk: Coastal guided walk at Wembury, South Devon
Free
Price on request
Price on request
W3
Walk: A guided nature walk around a suitable site of your choice with public access
Free
Price on request
Price on request
How to book and make a payment
If you would like to book a talk or guided walk for your group, make your selection from the choices above, complete the booking form below and send it to Jan Coman on jcoman@devonwildlifetrust.org or post it to Devon Wildlife Trust, Cricklepit Mill, Commercial Road, Exeter, EX2 4AB. If you would like a freepost envelope please request one from Jan either by email or call on 01392 260863.
Once your talk has been confirmed you will be asked to provide a £15.00 non-refundable booking fee to Devon Wildlife Trust (DWT). Please make cheques payable to 'Devon Wildlife Trust' or call 01392 279244 to make a card payment by phone.
We will acknowledge receipt of your form and fee. DWT will make every effort to fulfil your request, but if the relevant guide or speaker is not available we will ask you to make an alternative choice. If a speaker/guide is not available or a talk gets cancelled by DWT last minute, DWT will return the booking fee.
Bookings must be made by a named individual. The minimum advance booking is 21 days in advance, and the maximum is 12 months.
After the event you will be invoiced for the remaining balance due, including the speaker's expenses (charged at 40p per mile).
Cancellation
If a minimum of seven days' notice of cancellation is given, you will not be charged for the walk/talk service, however the booking fee will not be refunded. Following that period, in the event of cancellation by either you or DWT due to bad weather, illness, safety reasons or other unavoidable circumstances, only the £15 non-refundable booking fee will be required. However, where possible another date will be arranged.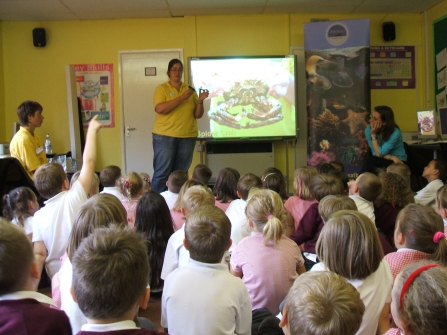 Talks for projects not listed above
We run a range of different projects, some of which are not listed above. You can visit our Projects page to see all the different Projects we deliver, if you would like to receive a talk by one of these Projects please get in touch with the project directly, details are on each Project page. 
Greater Horseshoe Bat Project
We often get asked if we can deliver talks on our Greater Horseshoe Bat Project, unfortunately due to funding and limited resources, we are only able to deliver talks to groups within the below project areas:
•              Avon Valley (near Loddiswell)
•              Berry Head (Brixham)
•              Bovey Tracey
•              Branscombe (near Beer)
•              Braunton
•              Buckfastleigh
•              Chudleigh
•              Dartmouth
•              Gunnislake
•              Harbertonford
•              Southleigh (near Seaton)
If you would like to book a talk, please get in touch with the Greater Horseshoe Bat Project directly by contacting bats@devonwildlifetrust.org You can find out more about the Project by visiting their website: