Connecting Actively to Nature volunteer
Location:
Mincinglake Valley Park,
Near Sylvania hut,
Exeter,
EX4 7DR
Devon Wildlife Trust is looking for volunteers to help deliver weekly Tai Chi and nature walk sessions in Mincinglake Valley Park as part of the Connecting Actively to Nature project.
Position details
Commitment
Weekdays
Frequency
Weekly
Opportunity type
Feeling connected to nature is good for you. Being physically
active is very good for you. Being Naturally Active is EVEN better.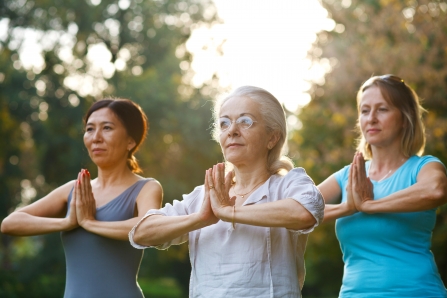 About the project
'Connecting Actively to Nature' is a new project that will help people aged 55 and over get more Naturally Active. The project aims to make getting Naturally Active easy and enjoyable for those who currently do little or no activity, or are struggling to stay active.
*Inactive; less than 30 minutes of exercise per week
Devon Wildlife Trust are recruiting CAN Volunteers who are committed to our cause and helping people to connect actively to nature through accessing their local CAN groups. The role of a CAN volunteer is unpaid (All expenses covered) and requires a small time commitment.
Devon Wildlife Trust are planning two CAN projects – Tai Chi in Nature and Nature Walks for Health which will both take place in Exeter's valley parks.
*We are currently looking for a volunteer to be the back marker for walks. These will run from 13th March for 12 weeks on Thursdays at 12.15pm. Walks last around 45mins - 1hour*
What the task involves
Staying in touch with the latest news and guidance from Devon Wildlife Trust and Active Devon (CAN coordinators).
Attending training opportunities and occasional network meetings
Providing information about the local CAN groups and opportunities.
Providing the opportunity for people to become active and stay active either in a supportive role or a leading role.
Making sure your local group or your supporting role is friendly, enjoyable and safe.
Making sure paperwork like registration and participant forms are completed for monitoring and evaluation purposes.
Please let us know which of the following would also be interested in helping with:
Leading activity sessions
Befriending inactive participants within your community
Blogging about your CAN experience
Adding sessions to media channels, e.g. Active Devon website, Facebook sites
Distributing marketing materials e.g. posters, leaflets, about local activity groups
Be a connector to local organisations e.g. GP surgeries, other groups not related to Physical activity.
Mentoring other volunteers
Filming of sessions when appropriate, sharing case studies
Purpose
To help make the CAN projects a success, encourage new participants and ensure participants enjoy the sessions. To be a friendly face at events.
To help participants enjoy using their local park and discover wildlife on their doorstep.
To promote Devon Wildlife Trust and the work we do across the county.
Skills and abilities
As a CAN volunteer, we would love you to bring a range of skills and qualities:
Passionate - about the natural environment and being active in natural settings.
Lived experience - about the impact of being active in nature has had on your life.
Supportive - of your local 'active in nature' projects and signposting people to them.
Genuine interest - in people: approachable; enjoy listening and talking.
Engaging - with the CAN programme with enthusiasm.
Sharing - key messages to help drive behaviour change in your local community.
Advocating - being an advocate for the CAN programme.
Volunteering - get involved and actively participate in volunteer opportunities to support people to get active in nature within your local community.  
Where
Within your community, Cricklepit Mill nr Exeter Quay and Mincinglake Valley Park
When
Most CAN activity sessions are short, around an hour or two once a week. Including travelling, preparation and paperwork, helping on an activity close to home typically takes around 2½ - 3 hours a week, plus occasional meetings and training.
Sessions are likely to run on Thursday mornings tbc. Ongoing help with promotion and organising flexible Wed-Fri.
Who is the supervisor:
Jasmine Atkinson, Terrestrial Conservation Officer
Expenses/equipment available
DWT provides all equipment necessary.
Travel expenses will be covered as agreed in advance with the organiser, but we do encourage local volunteering. Usually travel expenses would cover up to a 25 mile round trip.
Health and Safety/ Risk Assessment
A risk assessment is completed for each event. You will be informed of any particular risks or safety requirements and will be expected to comply.  
What's in it for the volunteer?
Training and mentoring - you will be supported by a member of staff from Devon Wildlife Trust and also from the umbrella organisation Active Devon. You will have a range of training courses that you will be able to attend as part of your role. Please see the training document for courses that you may like to attend.
Reimbursement of any expenses incurred (with prior agreement).
The opportunity to develop existing skills and learn new ones.
To get out and about in your community and meet others.
The chance to make a difference to someone's life as well as your own.
The opportunity to meet others like you across the County through both network celebration days and media platforms.
To work as part of a team.
Inclusive environment where we continuously value all contributions on a regular basis and give ongoing project feedback and impact.
How to apply
If you are interested in helping please contact Jasmine Atkinson on 01392 260838 or jatkinson@devonwildlifetrust.org