Research and evidence behind beaver re-introduction
The restoration of Eurasian beavers into the English landscape has been spearheaded by work carried out in Devon. 
The decision to allow the return of this iconic wetland species has been based on the detailed scientific evidence gathered by the DWT team, working closely with researchers at the University of Exeter.
On this page, you can find reports on the research carried out as part of the River Otter Beaver Trial to assess the impacts of wild beavers throughout the catchment, along with evidence on management of potential conflicts between different uses of the landscape by beavers and humans.
The River Otter Beaver Trial Science and Evidence Report
Click below to read the River Otter Beaver Trial Science and Evidence Report.
River Otter Beaver Trial annual reports
Beavers - Nature's Water Engineers
In 2017, a report was produced by DWT and the University of Exeter summarising the research from the Enclosed Beaver Project site.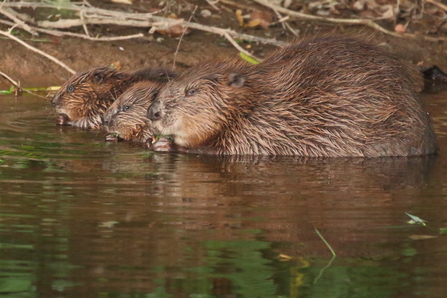 Reintroducing this ecosystem engineer to our heavily modified landscape doesn't come without challenges.  DWT's pragmatic advice and expertise with practical management has been vital in helping gain acceptance of this species once again.
As part of this work, DWT consulted with a wide range of experts and stakeholders to produce The Beaver Management Strategy Framework (BMSF). This was developed to outline how the beavers on the River Otter would be managed for the next 10 years if they were permitted to remain.
Beaver Management Strategy Framework for River Otter
The full BMSF document and supporting appendices can be found below.
Beaver Management Strategy Framework for River Otter (with Appendices)
River Otter Beaver Trial Annual Reports
Support our beaver conservation work