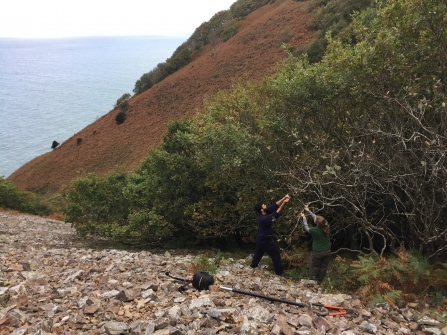 The annual autumn collection is part of a national project to protect the UK's trees.  The charity is a partner in the UK National Tree Seed Project, an initiative set up by the Royal Botanic Gardens, Kew's Millennium Seed Bank, with funding from players of People's Postcode Lottery.
Tree seeds collected as part of the project are safely banked in the underground vaults of Kew's Millennium Seed Bank – forming the UK's first national collection of tree seeds. These collections play a vital role in conservation work to protect UK trees and woodlands, including against pests and diseases such as ash dieback. The collections, and associated data, are available to researchers working on solutions to tackle the many threats facing our woodlands.
Devon Wildlife Trust's nature reserves' team has spent the last month gathering seeds from a list of common, and not so common, Devon tree species which includes aspen, eared willow, goat willow, grey willow, hazel, common dogwood, English whitebeam, wild service and small-leaved lime. The project will continue this autumn and next year. Collecting has meant visiting multiple sites in the county, especially in East Devon, and even straying 'across the border' to gather seeds from woodland in Somerset.
The collected seeds are destined for a specially temperature and humidity controlled environment at the Millennium Seed Bank before being processed and transferred to deep-freeze conditions. The seeds should remain viable for many decades and will be available to support research and on-the-ground conservation activity.
Clare Trivedi, UK National Tree Seed Project Co-ordinator at Kew Gardens, said:
"Building up our seed collections of the nation's favourite and most important tree species is a vital step in combating the multiple challenges, including pests and diseases, which threaten to alter our landscape dramatically. We are delighted that Devon Wildlife Trust is supporting this project to help us ensure that seeds from across the UK are collected and conserved."
Steve Hussey, Devon Wildlife Trust, said:
"We're proud that our charity is part of this important project. The familiar names we give the trees around us such as 'hazel' and 'whitebeam' masks a much more interesting reality. These same trees are genetically diverse and species vary across the nation. Just as we have regional accents, so then we have regionally specific trees. This project is helping us to understand this variation and to preserve it." 
The UK National Tree Seed Project launched in May 2013 with the aim of securing genetically diverse collections of UK native trees and shrubs. The species target list takes into account factors such as conservation status, prevalence in the landscape and vulnerability to pests and diseases. The target species include many which underpin the UK's wider plant and animal diversity, as well as supporting woodland industry, tourism and recreation, such as ash, juniper, Scots pine, alder, beech, hazel, silver birch and yew. To date, the project has collected more than 12.5 million seeds sampling from over 8,000 individual trees across the UK.
Like what we're doing?
Become a regular supporter of Devon Wildlife Trust's vital work today.