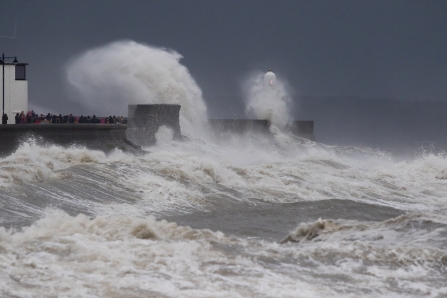 Writer and environmental activist Tony Juniper will give his talk on 'Can the UK be a world leader? How a new Environment Act could help save the planet' on Friday 5 October 2018 from 6.30pm, at the Roland Levinsky Building, in Plymouth. Booking is essential with tickets available at £10 each (£5 for students) from the University's e-store.
The talk is being organised by the charity Devon Wildlife Trust in partnership with the University of Plymouth Sustainable Earth Institute. The evening is the beginning of the conservation charity's campaign for a new Environment Act, which it hopes will lead to the widespread and long term recovery of nature.
Harry Barton, Devon Wildlife Trust's CEO said:
"We're delighted to be hosting Tony Juniper for this event. His talk will get to the heart of an issue that will have a profound impact on the futures of people and wildlife for generations to come. In July the Prime Minister surprised us all by confirming that a new Environment Bill will be published for public consultation this autumn. That's great news!  But we now need laws that have real punch and do more than just offer a watered-down post Brexit UK version of former EU laws."
"This talk is the precursor to a major campaign which will be the biggest and boldest that The Wildlife Trusts have done in our recent history. Its goal will be to create an Environment Act that really does lead the way to nature's recovery, and the funding and machinery to make sure that it is delivered." 
Tony Juniper has worked for environmental change for more than 30 years at local, national and international levels. His campaigning has spanned topics including making the case for new recycling laws, to orchestrating international action on rainforests and climate change.
After beginning his career as an ornithologist with Birdlife International, in 1990 he began a long period of working with Friends of the Earth, eventually becoming its Executive Director. His many books include the 2013 best-seller What has Nature ever done for us? His latest book, Rainforest – dispatches from Earth's most vital frontlines, was published in April 2018. In 2017 he was appointed Commander of the British Empire (CBE) for services to conservation.
Book your place for Tony Juniper's talk.
Read Harry Barton's blog on what he's campaigning for in the new Environment Act.