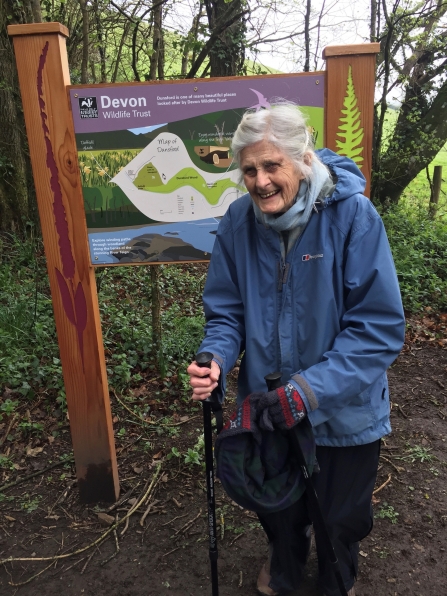 Mary Truell, who lives in the East Devon village of Lympstone, has spent the last months travelling the county to explore all 50 of Devon Wildlife Trust's nature reserves.
Her quest began in April with a visit to Dunsford nature reserve near Moretonhampsted and ended recently with a walk and celebratory cream tea at Marsland reserve, which lays at the opposite end of the county, close to Hartland, in North West Devon.
In between start and finish Mary explored 48 other reserves, clocking up more than 100 miles of walking. Her exploration took her from East Devon's Pebblebed Heaths, to Dartmoor's tumbling white water rivers, from the Culm grasslands of North Devon to woodlands and salt marshes in the South Hams.
So far, Mary's fundraising efforts for Devon Wildlife Trust have yielded more than £6,000 but the nonagenarian is hoping that this figure will grow even more now that her challenge has been completed.
Mary Truell said:
"On my adventure I have 'leapt' from tussock to tussock across bogs, met friendly Exmoor ponies, explored abandoned railway lines transformed into peaceful woodland complete with birdsong, and much, much more! 
It has been a revelation!  I have been amazed by the hard work, specialist knowledge, passionate, positive outlook of the Devon Wildlife Trust people who have accompanied me on my visits. Plus, their infectious good cheer raised my morale a hundred fold.
I need to pay tribute too, to my friends and relatives who have accompanied me. Having them join me on visits was a joyful bonus. Their delight when made aware of the variety of work in action by Devon Wildlife Trust made my challenge even more worthwhile."
Devon Wildlife Trust's Steve Hussey joined Mary on several of her visits and said:
"We're delighted that Mary has completed her mammoth fundraising challenge. It will make a real difference to our work for local wildlife.
Mary joins a very select band of people who have visited all our many nature reserves. I've been privileged to join Mary as she has undertaken several of her explorations and her passion for wildlife and for learning have been an inspiration. She is a remarkable person."
People can still help Mary Truell in her fundraising by making a donation by sending a cheque made out to 'Devon Wildlife Trust' to Devon Wildlife Trust, Commercial Road, Exeter, EX2 4RB. Please mark the back of the cheque 'Mary Truell challenge'. Or you can donate to DWT's latest nature reserve appeal. Thank you!