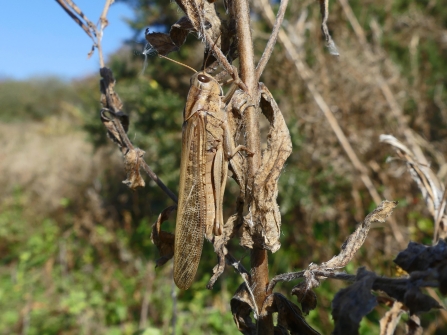 It may not be a plague but Devon has had what is believed to be its first visit from a locust.
The unusual sighting was made recently (Friday 19 October) at Devon Wildlife Trust's Andrew's Wood nature reserve, which is near Loddiswell, in the South Hams. The reserve is one of 50 managed by the wildlife charity.
The locust was spotted by wildlife enthusiast, David Turrell, on one of his regular visits to the reserve.
David Turrell said:
"I was on another visit to Devon Wildlife Trust's Andrew's Wood with my camera when suddenly a large insect shot up in front of me flying away on its huge wings. I instantly realised that it was something special, so I set off in hot pursuit. On approaching the area where I had seen it settle but before I could spot the locust, off it went again flying around 20 metres, making it hard to locate. It did this several times, finally landing at the foot of some brambles where I could admire it and take some pictures before I lost sight of it once again. It was amazing to find and like nothing I've ever seen before."
The insect was a species known as a migratory locust (Locusta migratoria). The 6-10cm long locust is usually to be found in Africa, Asia, Australia and New Zealand. Devon Biodiversity Records Centre, which is the custodian of the county's biological records, confirmed that this was a first recording of a migratory locust in Devon, and one of only 10 records ever made in England and Wales.
In its native territory the migratory locust, which is a strong flier capable of covering 15-20km a day, sometimes forms large swarms which can cause damage to crops. However, concern that a similar fate could befall the Devon countryside is thought to be unfounded.
Steve Hussey from Devon Wildlife Trust said:
"This is a very rare sighting. We think the recent strong westerly winds have brought this locust in from southern Europe or North Africa. It's possible that there may be others dotted across the South West but our climate and the cold weather which is predicted in the coming days will ensure that they don't survive very long. We are not about to be overwhelmed by locusts." 
The sighting of the migratory locust is one of a number of unusual recent wildlife records made across the South West. Last week twitchers flocked to Cornwall to catch sight of a catbird, a species more usually found in the USA but which had been blown in from across the Atlantic.
You've read about our work for wildlife, now take the next step and support us!