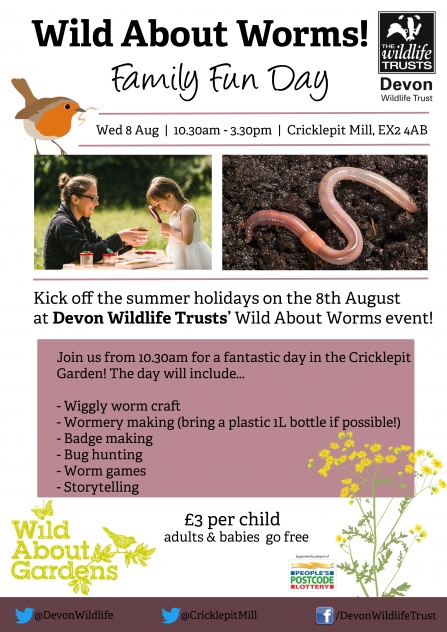 A fantastic family event 
On August 8, the charity will be opening the gates to the Cricklepit Mill wildlife garden for a family event that aims to highlight the importance of the lowly worm.
Children will have the chance to take part in a range of worm-themed activities, including various craft activities, worm games and trails around the garden.
Families can also have a go at making their own wormery to take home – the charity is asking that visitors bring along a large plastic bottle to house the wormery. There will also be bug hunting around the garden to help children learn what wildlife lives in the garden.
Located close to the city's historic quayside, Cricklepit Mill serves as the Exeter headquarters to Devon Wildlife Trust and boasts of an impressive wildlife garden, often described as an urban oasis in the heart of the city.
The event will take place on Wednesday 8 August, opening at 10.30am and finishing at 3.30pm. The charity is asking for a £3.00 donation for children – adults and babies go free.