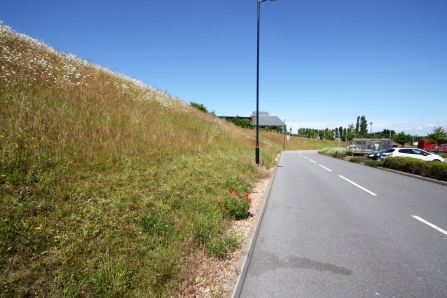 The orchids in question are rare bee orchids and their unusual home is the grassy verge banks around the car park of a Tesco Extra Store at Russell Way, in Exeter. The pretty flower gets its name from its lookalike appearance which mimics the shape and colouring of a bee.
The bee orchid has a sneaky reason for its striking good looks: it's all a clever ploy to attract bees that will pollinate the plant. Drawing them in with the promise of love, the bees attempt a mating. As they land on the velvet-textured lip of the flower, the pollen is transferred, while the poor bee is left frustrated.
The Exeter supermarket colony of bee orchids was first spotted by local naturalist David Land.  But the orchids could have been in danger from the regular mowing Tesco undertakes around its store and car parks. However, once the store was told of their presence by local conservation charity Devon Wildlife Trust, Tesco readily agreed to change the timings of its cutting, saving the orchids and allowing them to flourish.
Devon Wildlife Trust's Peter Burgess said:
"Tesco need to be commended for agreeing to change the management of their grounds to accommodate these beautiful orchids. Bee orchids are opportunistic plants and can spring up virtually anywhere, but to see them in a supermarket car park is unusual. They are more often found in traditional meadows. It just goes to show that if we make space for nature it can flourish, even in the midst of our towns and cities."
Ian Dyer, manager of Tesco's Exeter Vale Extra store said:
"It was a real surprise to hear that we had bee orchids growing in the grass verge, as it's not the sort of plant you expect at the side of a store car park. Once we were alerted to the fact they were there we put our grass cutting on hold so as not to disturb them. We hope they will continue to thrive."
Bee orchids can be seen in bloom during June and July. They can grow to nearly 30cm in height and are one of 52 species of orchid found in the UK.
Help us in our vital work for wildlife today.