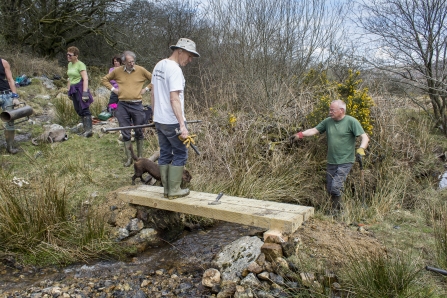 A project which has seen the restoration of bog habitats in Dartmoor National Park has taken home the prestigious Park Protector Award. The project has been recognised for its important role in improving one of Dartmoor's most beautiful valleys for wildlife and increasing its visitor access.
Opening up Emsworthy Mire nature reserve, which is owned and cared for by the Devon Wildlife Trust, took home the £2,000 prize, which was presented at a parliamentary reception last night [17 October]. The annual Award is run by Campaign for National Parks to recognise, celebrate and support projects that make a difference within the English and Welsh National Parks.
President of Campaign for National Parks, the actress Caroline Quentin, and Julian Glover, who is leading the Government's review of England's Areas of Outstanding Natural Beauty and National Parks, addressed guests and parliamentarians at the reception.
Peter Burgess, Director of Conservation and Development at the Devon Wildlife Trust said:
"Opening up Emsworthy Mire, is a wonderful example of what can happen when dedicated, passionate people come together to make a difference to our natural world. Through determination and hard work we have completely transformed the mire from an impenetrable and formidable landscape to somewhere both wildlife and visitors can enjoy."
Caroline Quentin, president of Campaign for National Parks, said:
"Opening up Emsworthy Mire is a wonderful project and I am delighted to see them receive the top prize of this year's Park Protector Award.
The National Parks are important national assets and projects such as this one are brilliant examples of why we should all be getting out and enjoying these beautiful areas of countryside."
A second project, Helping Hands in Snowdonia National Park, which is run by the Snowdonia Society, took home a highly commended prize and £500 grant. This project uses an army of volunteers to look after some of the most famous landscapes in Wales.
Stephen Ross of the Ramblers Holidays Charitable Trust, the sponsors of the Awards, said: "We have been delighted to see so many share in our passion for the incredible beauty and importance of the National Parks. Opening up Emsworthy Mire and Helping Hands are both fantastic examples of projects that are making a difference across England and Wales."
Devon Wildlife Trust's recent work at Emsworthy Mire nature reserve has been supported by Viridor Credits Environmental Company and players of People's Postcode Lottery.
Much of the work undertaken at Emsworthy Mire nature reserve was done by local volunteers.
Find out how you can support our work at Emsworthy Mire and our 49 other nature reserves.