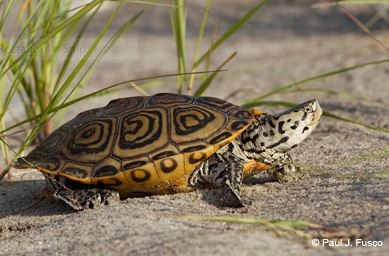 The terrapins were part of a small colony of the reptiles which have been living at Devon Wildlife Trust's Bystock Pools nature reserve, near Exmouth, in East Devon. They were humanely trapped and removed by the charity to be re-homed at a wildlife sanctuary elsewhere in the South West.
It's not known for certain how the terrapins came to be living in the small lake which forms part of the east Devon beauty spot, but they are thought to have been dumped there as unwanted pets. The terrapins have been resident for more than a decade but their presence has had a negative impact on local native wildlife. Terrapins are known for their voracious appetites taking advantage of the lake's insect larvae including dragonflies and damselflies. They are also thought to be responsible for the disappearance of ducklings along with the chicks of other water birds including moorhens.
The terrapins living at Bystock Pools are a mix of red-eared terrapins and yellow-bellied sliders, both species are native to the southern states of the USA but alien to the UK. They can live up to 50 years of age, although 20-30 years is more usual, and can grow to 20cm in length. As a non-native species they are listed under the European Union's Invasive Alien Species Regulation and it is against the law for them to be released into the wild in the UK.
Devon Wildlife Trust's Edric Hopkinson manages Bystock Pools, which is one of 50 nature reserves cared for by the charity. Edric said:
"I am delighted that we have caught two of the terrapins. They have been causing a bit of a headache for our management of this beautiful nature reserve. The creatures have proved to be very difficult to catch in such a large waterbody as that found at Bystock Pools. I am pleased that our efforts to capture them have so far been successful and that the animals can now live in a wildlife sanctuary where they will be well looked after for the rest of their lives. I look forward to seeing the natural balance of our native flora and fauna in this biodiverse waterbody begin to be restored."
Devon Wildlife Trust is now faced with the task of trying to remove the remaining terrapins, thought to number two or three. It's a costly and time-consuming task for the charity which already spends an estimated £2,000 per day maintaining its 50 nature reserves for visitors and wildlife.
Find out more about our charity's work for wildlife and its 50 nature reserves.