The opportunity...
Help Devon Wildlife Trust and Buglife save the rare narrow-headed ant at its only location in the county, as part of the Back From The Brink Project. Everyone is welcome!
Position details
Commitment: Various
Frequency: Monthly
Location: Chudleigh Knighton Heath, 1.5 miles east of Bovey Tracey, TQ13 0EY
 
Contact details
Stephen Carroll, Back From The Brink Ant Species Recovery Project Officer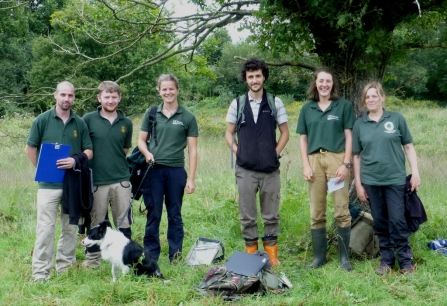 When and where
Ad hoc days throughout spring – autumn, April / May – November.
At three DWT nature reserves in the Bovey Basin area: Chudleigh Knighton Heath, Bovey Heathfield and Teigngrace Meadow (possibility of projects and events at other local sites as well).
The activities
Ants need love too! The extremely nationally rare and threatened narrow-headed ant now survives at one location only in the whole country. This special project aims to safeguard the remaining population and establish new ones at former and new sites nearby. There are all sorts of ways to become involved and learn new skills:
'Nest Quest' surveys
Original research into ant behaviour and ecology (also suitable for school or university study projects)
Monitoring existing and new nests
Joining practical task groups, creating and restoring heathland habitats
Events and schools' work and visits
Artwork, crafts, posters and leaflets
Other general help, varied and of all kinds! From office support to cake making and beyond
About the project
Back from the Brink is a coalition of national conservation charities and organisations, funded by Heritage Lottery Fund and the People's Postcode Lottery, working together to secure the future of 12 species which are at risk of disappearing from England altogether, and 8 key habitats, in the process helping to conserve over 100 other priority species.
The Narrow-headed ant species recovery project is led by Buglife, an external organisation, with Devon Wildlife Trust as key project partner.
To find out more , please contact Buglife via the Back from the Brink Narrow-headed Ant species recovery project officer, email Stephen.Carroll@buglife.org.uk
Join the Narrow-headed Ant project Facebook group for latest news and event details.